National Grid Submits "Future Grid" Plan to Empower Massachusetts' Smarter, Stronger, Cleaner and More Equitable Energy Future
Sep 01, 2023 - 6:00 PM
Categories: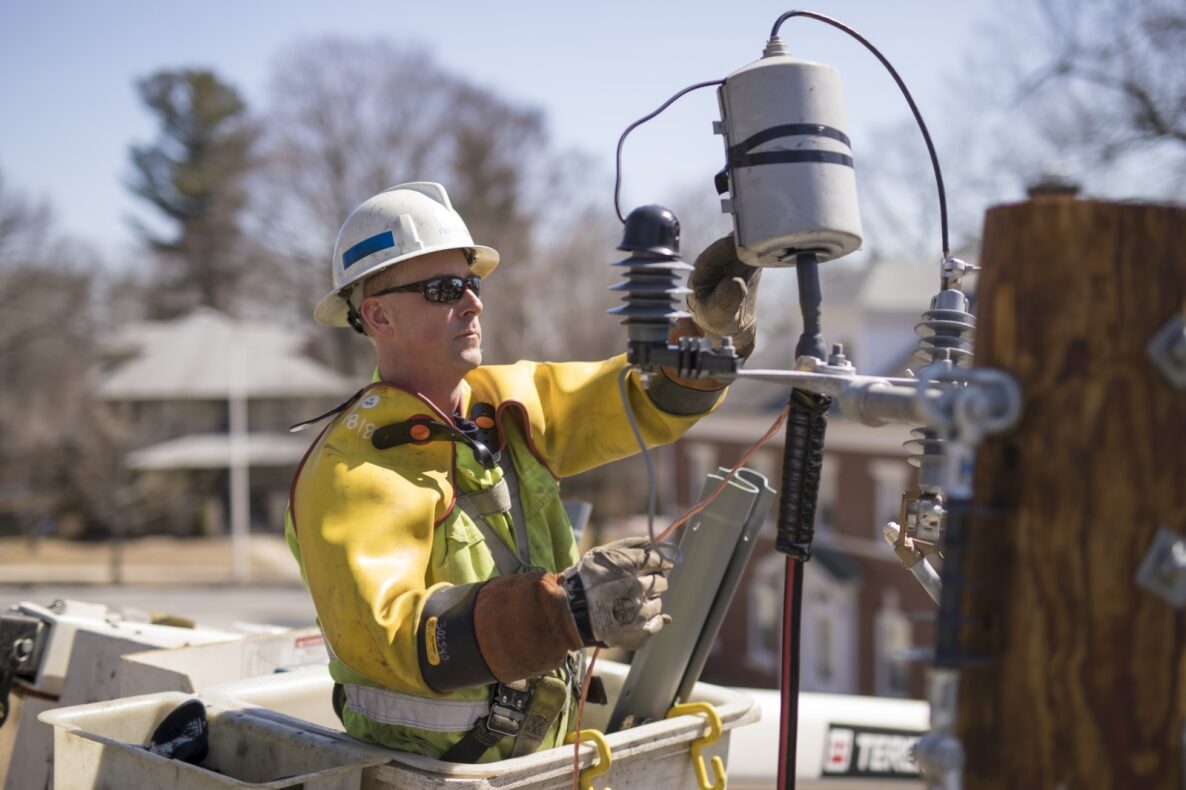 WALTHAM, MA – National Grid submitted its Electric Sector Modernization Plan (ESMP), the Future Grid Plan, to the Grid Modernization Advisory Council (GMAC) today outlining the critical investments needed in the local electric distribution system over the next five years and beyond to meet the Commonwealth's nation-leading climate change, clean energy, and equity goals as established in the 2050 Clean Energy and Climate Plan (CECP). As part of National Grid's commitment to delivering a fair, affordable, and clean energy future for all its customers, the Plan outlines a comprehensive and flexible path designed to expand and upgrade the current electric distribution grid, ensure reliability, enable increased electrification, and empower smart customer choices and the transition away from a fossil-based economy.
"We are at an inflection point in the Commonwealth's energy future. We must continue to invest to achieve our shared goal of accelerating the adoption of climate and clean energy solutions by all customers and communities across Massachusetts. Today we've submitted a plan that strives to do just that," said Steve Woerner, President, National Grid, New England. "With electric peak demand expected to double over the next 25 years, driven by substantial growth in the use of electric heating and transportation, now is the time to build a future grid that is smarter, stronger and cleaner. We must harness our state's innovative and collaborative spirit to achieve an energy future that works for all."
A Focus on Key Smarter, Stronger, Cleaner Energy Goals
The company's Future Grid Plan details the broad areas of investment and the key role they will play in building a smarter, stronger, and cleaner energy future that:
Empowers customers to make smart, clean energy choices that work for them;
Creates a ready, reliable and more resilient grid capable of withstanding more extreme weather and evolving threats;
Leverages innovation, drives efficiency, and supports greater system flexibility; and
Enables a more just and equitable energy future that benefits all.
The Future Grid Plan is innovative, customer-centric, and equity-focused to help ensure that customers and communities across our diverse service area can participate in and benefit from the clean and electrified energy future, while maintaining high quality service and high reliability.
Future Grid Plan: Three Key Areas of Investment
Over the next five years, the company proposes to invest approximately $2 billion in three key areas to build a clean energy future and meet the Commonwealth's electric-based approach to achieving net zero emissions, which is estimated to double current peak levels of energy demand:
Network Infrastructure, such as new and upgraded power lines, transformers, and substations to make them stronger, more resilient, and ready to connect more clean and distributed energy and accommodate substantial growth in electric demand.
Technology and Platforms, such as new planning tools, systems, and processes to drive smarter decision-making. This includes installing state-of- the-art data and monitoring systems to provide greater visibility into how the grid and interconnected devices are operating to ensure system safety and stability, upgrading IT systems and communications networks to support two-way information flows and control, and providing greater system flexibility, security, and more timely information to customers.
Customer Programs, such as new offerings and pilots to help customers reduce their carbon footprint, adopt cleaner energy solutions and drive smart energy use, better manage costs, and build community resilience and agency.
"By developing and submitting this Future Grid Plan as our Electric Sector Modernization Plan, National Grid is taking a critical step towards meeting the energy and climate challenges of today and the future," said Nicola Medalova, National Grid New England's Chief Operating Officer. "The Future Grid plan begins to define the scope and scale of what we collectively must do over the coming years and decades to combat climate change and enable a more electrified future, and the policy and regulatory changes needed to make it happen. This is a holistic plan that identifies the system investments and changes needed in the local electric distribution grid, its operations, and how it must perform to benefit all. Most importantly, it offers an opportunity to engage broadly, stimulate ideas, and gain input to ensure this proposal is supportive of and responsive to the needs and expectations of all our customers and communities."
The proposed investments in the Future Grid Plan support the goals set forth in the Commonwealth's CECP of expanding energy efficiency and demand response, advancing the smart electrification of heating and transportation, and accelerating the connection of solar, storage and other clean energy technologies to the local energy grid. The proposed Future Grid Plan builds upon investments that are already underway and approved by the Department of Public Utilities (DPU) in previous proceedings that have put us on a pathway to reducing emissions and increasing electrification.
Ensuring All Customers Are Heard, Engaged, and Benefit
The proposed investments in the Future Grid Plan align with feedback from customers and communities the company has received to date as part of an extensive engagement process in advance of this submission. The scope of this public engagement included outreach to our National Grid Customer Council, comprised of both residential and commercial customers, as well as public officials, local businesses, clean energy groups, nonprofits and community groups and organizations representing Environmental Justice Communities (EJCs).
The investments proposed in this Future Grid Plan are currently projected to have an average annual bill impact of approximately 2% over the first investment period and result in benefits to customers and communities across Massachusetts, including:
Generating incremental economic activity of $1.4 billion and 11,000 full- and part-time jobs by 2030.
Enabling an additional 4 gigawatts of capacity by 2035, enough to support an additional 1.1 million electric vehicles, 750,000 electric heat pumps.
Upgrading hundreds of feeders to enable the connection of more clean, distributed energy resources.
Improving local air quality as more cars, buses and trucks are electrified.
National Grid has also proposed a new Equity and Environmental Justice Policy and Stakeholder Engagement Framework and, together with the state's other electric distribution companies (EDCs), a joint Community Engagement Stakeholder Advisory Council to empower communications and give more agency to communities to address historic inequities. The company has also proposed enhancing its existing Workforce Development Program to train the next generation of electric line worker from the diverse communities we serve and expanding partnerships to ensure we are reaching all members of our communities to educate and engage them in opportunities that will come from the clean energy transition.
Engaging with Communities: A Look Ahead
Today's submission is the first step in a vital public process. Throughout this public process, customers, community advocates, and any other interested parties will be able to provide their feedback through public and technical workshops National Grid will conduct jointly with the Commonwealth's other electric distribution companies and on its own.
The company will also continue its engagement with the GMAC, which will thoroughly review and provide feedback on the proposed Plan. National Grid will take all feedback and use it to evolve and better inform the formal filing of the Future Grid Plan the company will make to the DPU in January 2024. The DPU will hold a formal process to consider the Plan and direct the company how to proceed.
Background: National Grid is a foundational partner in advancing climate and clean energy goals
This Future Grid plan builds on previous National Grid investments made and actions taken to deliver clean, reliable, affordable electricity for all our customers, including maintaining systemwide reliability at 99.9%, connecting 200 MW of distributed energy resources in 2022, for a total more than 2 GW connected to our system, supporting the installation of 10,000 heat pumps through Mass Save with a goal of another 21,000 by 2024, and enabling the installation of more than 1,800 Electric Vehicle chargers, with another 32,000 to come.
National Grid's efforts to date support Massachusetts' goal to reach net zero emissions by 2050 – one of the most ambitious climate goals in the nation. The Commonwealth plans to achieve this goal through programs and plans as established in the CECP to transition major systems and sectors of the Commonwealth's economy that run on fossil fuels to alternatives that run on clean electricity; for example, transitioning from natural gas for heating to electric heat pumps, and transitioning from gasoline for transportation to electric vehicles. The state's EDCs were directed in An Act Driving Clean Energy and Offshore Wind to develop and submit ESMPs detailing the investments needed in the local electric grid to achieve the CECP goals and maintain a reliable, resilient, and affordable energy system.
About National Grid
National Grid (NYSE: NGG) is an electricity, natural gas, and clean energy delivery company serving more than 20 million people through our networks in New York and Massachusetts. National Grid is focused on building a smarter, stronger, cleaner energy future — transforming our networks with more reliable and resilient energy solutions to meet state climate goals and reduce greenhouse gas emissions.
Media Contacts
Related News