National Grid Volunteers Restore a Piece of Syracuse History
Sep 12, 2023 - 9:47 PM
Categories: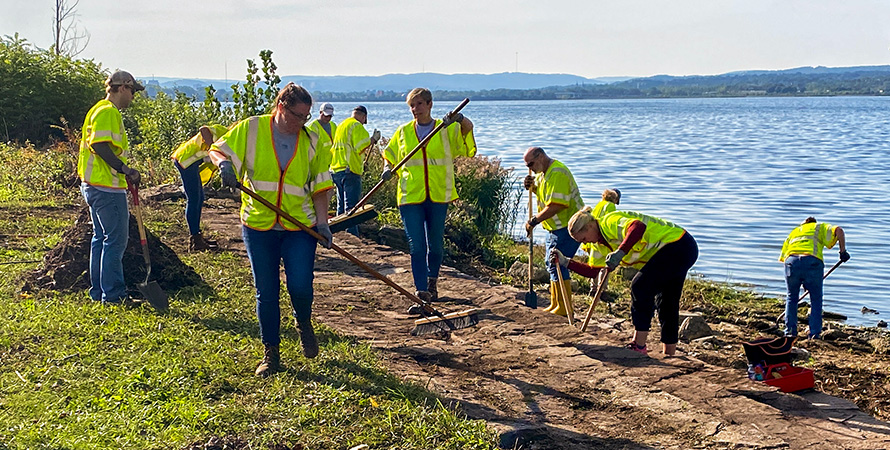 SYRACUSE, N.Y. — National Grid employees were knee deep in Onondaga Lake Tuesday to preserve a piece of local history that had faded from memory. More than 40 company volunteers spent the day unearthing the stairs at Jesuit Landing, near the Butterfly Garden of Hope on the Onondaga Lake Parkway, as part of National Grid's Project C Week of Service.
For the past two years, thousands of employees in New York have volunteered at nonprofit organizations as part of the company day of service. To mark the third anniversary of Project C, the company dedicated the week of Sept. 11-15 to service projects so that even more employees could participate and give back to the communities we serve.
"Project C codifies the commitment we have to all of the communities in New York state where we deliver energy," said Alberto Bianchetti, regional director of customer and community engagement. "It's employee-driven and employee-powered, and the benefits are felt by everyone who lives here."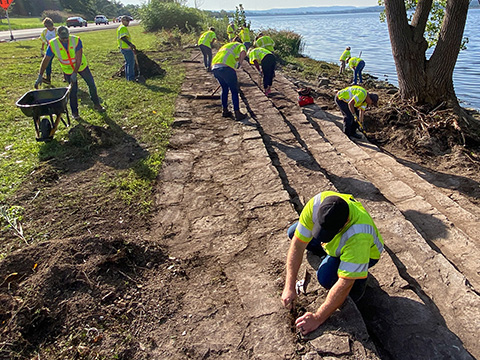 History of Jesuit Landing
When Franklin Delano Roosevelt became governor of New York in 1929, the nation was entering the worst economic period in its history — The Great Depression. The Temporary Emergency Relief Administration was established to provide support to the unemployed and was used to create the Onondaga County Emergency Work Bureau, a work program that put able-bodied individuals to work on state projects. When Roosevelt was elected President 1932, TERA served as inspiration for the employment projects of The New Deal.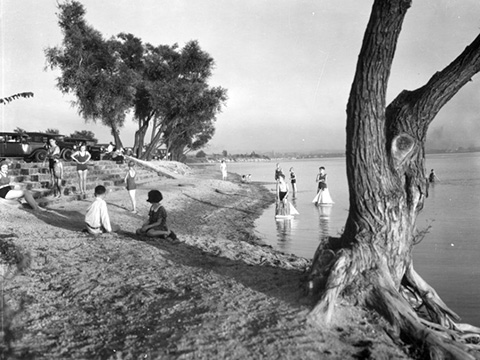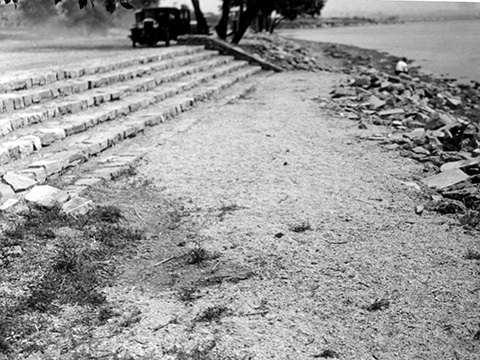 Photos of the stairs at Jesuit Landing in 1932. Schuelke Collection, courtesy of the Liverpool Public Library
One of these make-ready work projects was at a spot known as Jesuit Landing on Onondaga Lake. Workers built stairs from street level to access the beach that once surrounded the lake. This area on the eastern shore of Onondaga Lake takes its name from where Jesuit missionaries from Quebec first landed in the area. Other work projects from this time in the immediate area included Onondaga Lake Park, Onondaga Lake Park Marina, Salt Museum, a living history museum at the Saint Marie mission site, Onondaga Lake Parkway, the Jesuit and Gale Salt Wells, and the Wedding Bridge.
The stairs at Jesuit Landing eventually became lost to time. Decades of industrial pollution led government officials to prohibit swimming and consumption of fish from the lake, rising water levels overtook the beach, and overgrowth of lake grass, trees and other plant life hid the stairs for decades.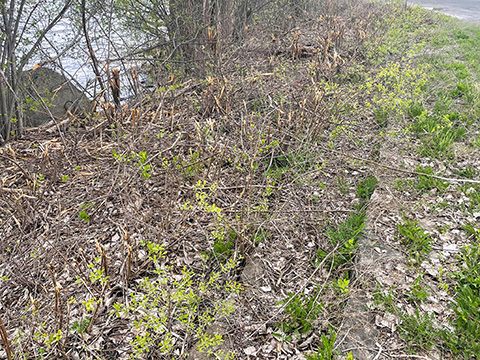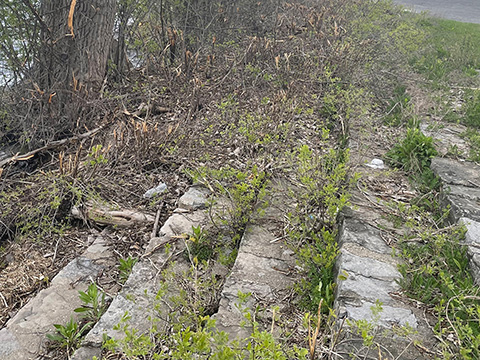 The stairs at Jesuit Landing before National Grid's cleanup...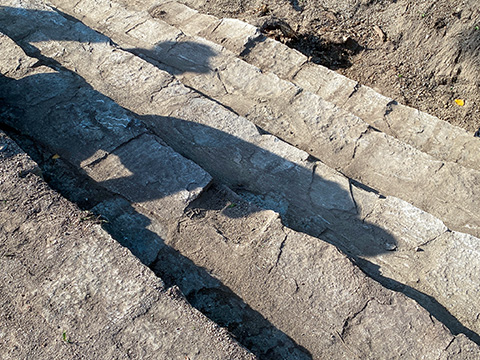 ...and after.
Project C Week of Service
National Grid launched Project C in 2021 with a day of service, where employees from across the company's New York service area volunteered at housing agencies, soup kitchens, animal shelters and other nonprofits. It has since grown into a weeklong service event, where more than 2,500 volunteers from across the state will donate their time for the good of the communities where they live and work. Project C is National Grid's Community Commitment to:
Build a better future by Connecting our communities to clean and sustainable energy.
Care for our neighborhoods and their revitalization.
Compassionately address the challenges our customers face, including environmental justice and social equity.
Create the workforce that will help build New York's clean energy delivery system.
Collaborate with our customers, partners, stakeholders and so many others to deliver the clean, fair, resilient and affordable energy future.
Learn more about Project C at ngrid.com/project-c.
Media Contacts
Related News