Summertime STEM Programs for Syracuse School Students
Aug 02, 2022 - 10:06 AM
Categories: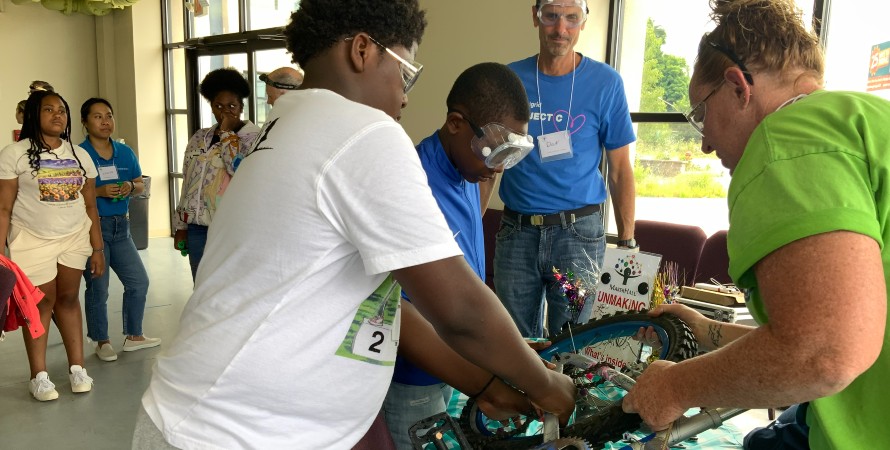 When the final school bell rang in June, it marked the beginning of a summer of learning for two groups of children from the Syracuse area. Rather than putting books to the side for the summer break, they made the choice to take part in two different STEM enrichment programs supported by National Grid.
National Grid partnered with the Dunbar Association, Inc. and MercyWorks in Syracuse on its fourth annual Trades Camp, a three-day program offering participants the opportunity to explore careers in trades, and technical and engineering fields. The company also provided support to the National Society of Black Engineers Syracuse City School District Chapter for its weeklong summer camp at Syracuse University.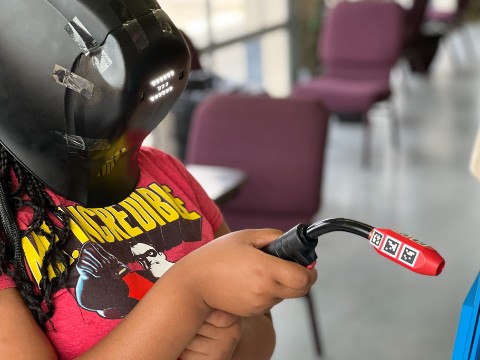 "Inspiring a diverse, knowledgeable workforce at an early age is essential to ensure a clean energy future that is fair and equitable for all," said Alberto Bianchetti, regional director of customer and community engagement for National Grid. "It's incumbent upon us as a company to create pathways to careers for the next generation of utility professionals."
Workforce development is embedded into National Grid's Responsible Business Charter, which seeks to open doors to learning opportunities for young people, with a focus on low-income communities, by supporting STEM enrichment programs. It's also a pillar of National Grid's Project C initiative, which seeks to transform communities beyond traditional methods and ensure an equitable future for all customers.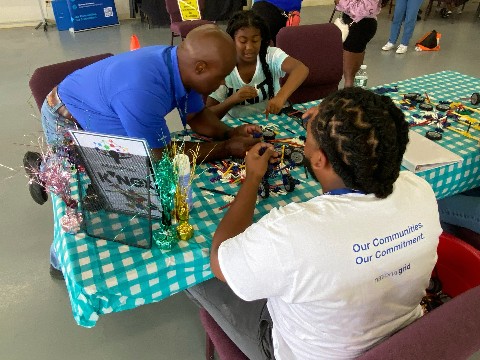 Trades Camp
More than 20 students between the ages of 10 and 12 participated in the July camp at MercyWorks. National Grid employees volunteered their time to facilitate projects throughout the camp, which included tours of a National Grid substation and other facilities.
More than two dozen National Grid employees led hands-on science stations on the first day. Students got hands-on with structural and mechanical engineering, and water and weight displacement projects. One of the most popular stations involved students taking apart small motors, bicycles and other items to see the gears, circuits and other components up close.
"This is an opportunity to get these kids into a space where they can learn opportunities in the trades directly from the people who work in them," said Tim Graham, vice president for gas operations, New York, and executive sponsor for the Trades Camp.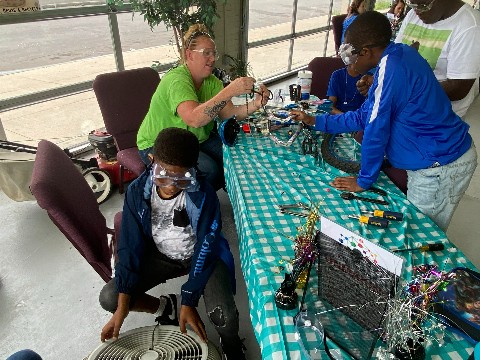 The experience extended beyond careers with a utility. Onondaga-Cortland-Madison BOCES facilitated the use of HVAC, welding and electrical simulators, providing a broad view of vocational and technical careers. Representatives of the Torrence Group, Inc. discussed their work in paving, concrete and excavation and brought along equipment for the campers to check out.
Participants also had a chance to give back, making sandwiches for We Rise Above The Streets, a local nonprofit known for its Sandwich Saturdays distributions of food and personal supplies. The camp ended with a trip to the Museum of Science and Technology and the new National Grid ExploraDome.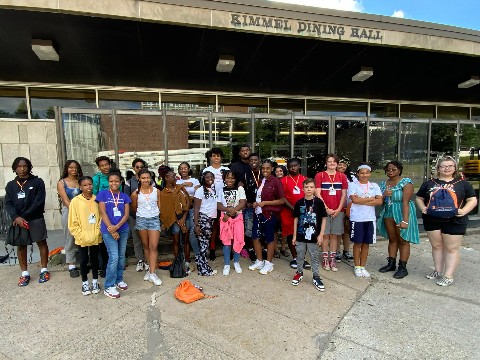 Summer Engineering Camp
This year marks the first Summer Engineering and Science Camp from the Syracuse City School District's National Society of Black Engineers Junior Pre-Collegiate Chapter. More than 60 students from NSBE junior chapters in Buffalo, Rochester and Syracuse participated in the weeklong residential camp at Syracuse University, working in the classrooms and labs at the college and living in the dormitories. Projects focused on problem solving, investigation and explaining their learnings to peers and mentors.
Engineering concepts were taught through the construction of robots used in competition at the camp. Classroom and lab work also touched on chemical interactions, and planetary and exploratory sciences, which included presentations.
"By engaging in hands-on exploration to problem solve individually and collaboratively, and reporting out their findings to their peers in both writing and presentation formats, we're building and reinforcing the skills needed to be competitive and successful as engineers," said Yolanda Mitchell, senior engineer for National Grid and liaison to the NSBE chapter.
National Grid volunteers and equipment were also on hand as students had a chance to get a lift in one of its bucket trucks and see the tools that lineworkers use when responding to outages. Some of the same students took part in National Engineers Week programs in February, which included a tour of a National Grid substation.
The Summer Engineering Camp was a collaboration between the Syracuse City School District, National Grid, Syracuse University, Syracuse University's chapter of the NSBE, and the National Science Foundation's Louis Stokes Alliances for Minority Participation.
About National Grid
National Grid (NYSE: NGG) is an electricity, natural gas, and clean energy delivery company serving more than 20 million people through our networks in New York and Massachusetts. National Grid is focused on building a path to a more affordable, reliable clean energy future through our
fossil-free vision
. National Grid is transforming our electricity and natural gas networks with smarter, cleaner, and more resilient energy solutions to meet the goal of reducing greenhouse gas emissions.
Media Contacts
Related News