The Sweet Life
Sep 02, 2021 - 8:35 AM
Categories: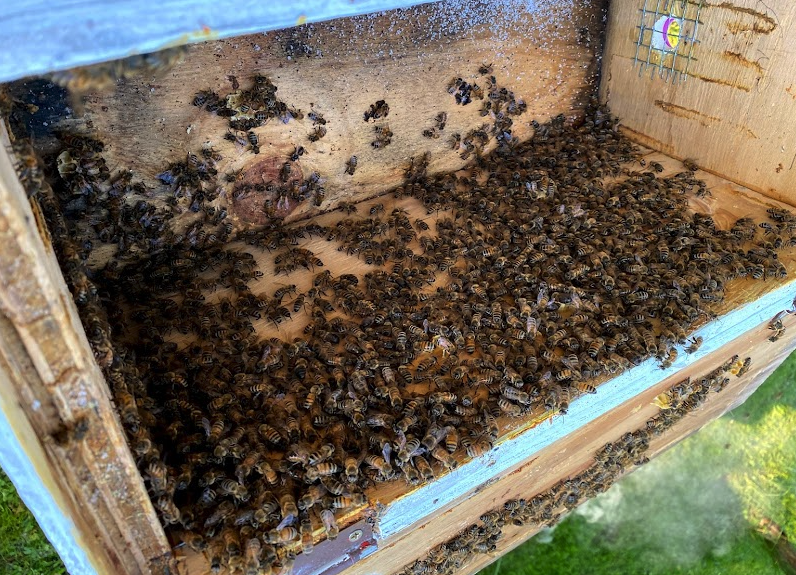 To be with the bees or not to be with the bees?
That is the question that Jay Snyder asked himself after beekeeping neighbor Todd Overhoff requested his help to rescue a displaced swarm of bees. Years later Snyder, a National Grid energy efficiency specialist who covers western New York, chose to be with the bees.
And soon after his swarm-rescuing experience so did his family, who began their beekeeping hobby that includes packaging honey plus making and selling beeswax-based lip balms and other products.
But first the two neighbors rescued the swarm, which Snyder described as relatively docile. After Snyder moved past his initial anxiety over potentially getting stung a few hundred times, he said the experience taught him that bees, by nature, weren't always aggressive. Once the swarm was secured, he wanted to learn more.
Overhoff, who at the time had been helping a family member tend to his bees, and Snyder eventually decided to keep bees of their own.
And so one summer a few years ago, they did.
"We started buying equipment and reading and watching videos, and it really took off," said Snyder, who lives in Boston, N.Y.
In recent years, the hives that he and Overhoff had built - like the one pictured above - have been moved to Snyder's backyard. There, he said, his wife and two children handle most of the beekeeping duties. Last year, Snyder and Overhoff tended to three hives. They since have grown their operation to include seven hives, which they anticipate will be home to up to 700,000 bees that will produce up to 400 lbs. of honey this year.
"Bees aren't as dangerous as their reputation," he said. "And when you catch a swarm they're the most docile that they'll ever be. They don't have a home to protect, no honey or brood to protect. So they pretty much hang onto a tree branch and you can scoop them up into a cardboard box or cooler. And they'll be fine."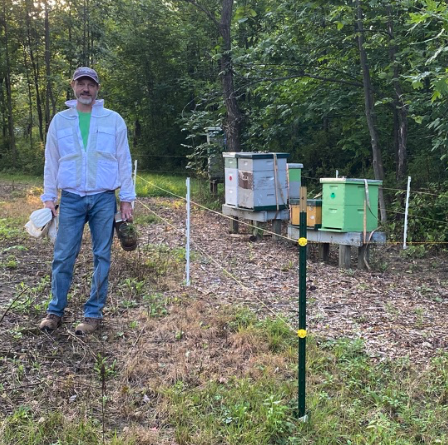 Jay Snyder tends to some of the hives on his Boston, N.Y. property.
He said that bees also provide an environmental benefit by pollinating plants and farmland.
"A tomato plant that is pollinated by bees will produce more tomatoes than one that is not pollinated," he said. "Pollinated plants are also better for nut trees or other plants that wildlife depend upon for nutrition."
What began as a trip to help his neighbor has has become a labor of love for the Snyders, who often are asked, "what do you do with all of that honey?"
"We packaged 180 lbs. of honey last year, which seems like a lot, but we don't process enough of it to sell it commercially," he said. "A lot of it goes to friends and family for Christmas presents, gift baskets or donations. We sell some to co-workers but probably the most of it - up to 90 percent - is for our own use."
About National Grid
About National Grid: National Grid (NYSE: NGG) is an electricity, natural gas, and clean energy delivery company serving more than 20 million people through our networks in New York, Massachusetts, and Rhode Island. National Grid is transforming our electricity and natural gas networks with smarter, cleaner, and more resilient energy solutions to meet the goal of reducing greenhouse gas emissions.
For more information, please visit our website, follow us on Twitter, watch us on YouTube, friend us on Facebook, and find our photos on Instagram.
Media Contacts
Related News