Waterfront Event Center Earns Economic Development Grant from National Grid
May 15, 2023 - 12:54 PM
Categories: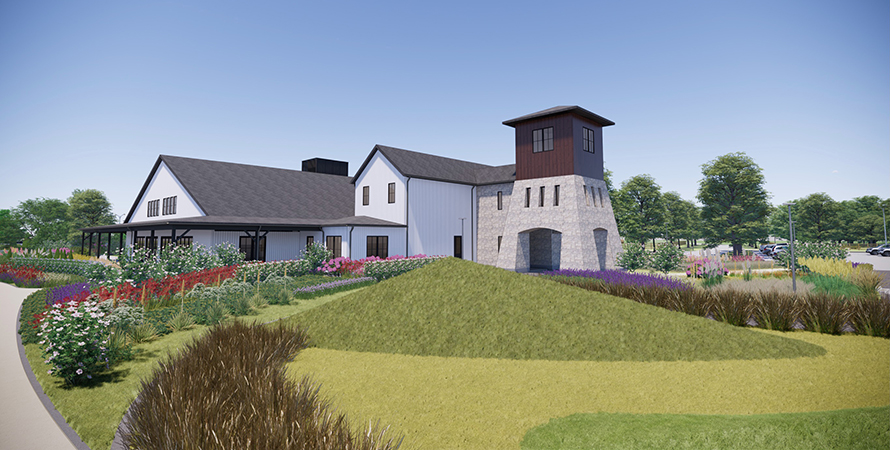 Developers of a lakefront events center in the Town of Lyme were faced with a problem. Joining the future Sally Port View on Three Mile Bay to National Grid's distribution system required running power lines to the nearest connection point more than 3,000 feet away, a cost that the developers described as a "potential blocker" to proceeding with the project.

The solution came in the form of a $300,000 economic development grant from National Grid. The company's Three-Phase Power Incentive program will provide funding to cover nearly three-quarters of the installation cost for electric service.

"We are extremely grateful to National Grid for providing this large grant," said KC Bennett, an executive with Three Mile Bay Ventures, which is developing the project. "It's an award that enables us to complete this project and is central to its success."

Bennett continued: "Sally Port View requires three-phase electric power to be run over half a mile from Route 12E to the waterfront main facility. This represents a hefty cost and the grant takes away a large portion of that burden. When complete, the service will power five cottages, campus lighting, and a 12,000-square-foot event hall will play host to weddings, concerts, tournaments, restaurant nights, and more."

The $7.8 million Sally Port View events center in Three Mile Bay will feature a 220-seat event facility for weddings, corporate off-sites and other events set on 57 acres. The center also plans to offer professionally guided fishing trips, kayaking, canoeing and paddle boarding along its 1,000 feet of lakeshore.

"Bringing energy to new customers is the definition of economic development," said Alberto Bianchetti, National Grid's regional director of customer and community engagement. "Sally Port View is going to bring jobs, visitors to Three Mile Bay, and sales tax revenue to the community. The return on this investment will be felt for years to come."

National Grid Economic Development Programs

National Grid's three-phase phase power incentive provides grants to help fund the extension of three-phase electric service to eligible National Grid customers. Additional incentives are available to applicants installing renewable energy technologies on their premise as an alternative to a three-phase extension.

Since 2003, National Grid's 18 economic development programs have provided more than $125 million in assistance, helping to create or retain more than 60,000 jobs and supporting almost $10 billion in private and public investment across upstate New York. More information about National Grid's suite of programs is available at www.shovelready.com.
About National Grid
National Grid (NYSE: NGG) is an electricity, natural gas, and clean energy delivery company serving more than 20 million people through our networks in New York and Massachusetts. National Grid is focused on building a path to a more affordable, reliable clean energy future through our
fossil-free vision
. National Grid is transforming our electricity and natural gas networks with smarter, cleaner, and more resilient energy solutions to meet the goal of reducing greenhouse gas emissions.
Media Contacts
Related News