Heating Your Home
Warm up to peace of mind, comfort and savings
Whether you use natural gas, electricity or other fuels to keep your home comfortable, space and water heating represent a big part of your energy costs.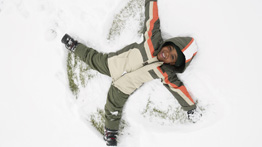 At National Grid we believe everyone should feel comfortable at home while also enjoying the peace of mind that comes with saving energy, money and choosing reliable, state-of-the-art products and technologies. High-efficiency space and water heating equipment will keep the temperature of your home just right and it is more affordable than ever with our exclusive rebates on energy-efficient solutions!
Natural Gas Heating and Water Heating
Did you know that space heating can take as much as 50 percent of your home's energy budget? and water heating can take another 15 percent? Enjoy more peace of mind knowing you will save on energy costs for years to come - up to 30 percent- when you upgrade to a high-efficiency boiler or furnace.
If your water heater is 10 years or older, don't wait until it breaks, upgrade to a new, high-efficiency gas water heater today and start saving up to 50 percent more energy than your old, less efficient model.
Check out our rebates, don't miss out on up to $450 discount on qualifying, natural gas heating and water heating equipment.
Electric Heating and Water Heating
Heat Pumps keep your home temperature—and energy costs— just right!
Are you using oil, propane, or electric resistance to heat and cool your home? Whether you use a mini-split, central air source or ground source heat pump, this technology is a cleaner, more efficient alternative to help you find the perfect balance of cool and warm, comfort and savings all year round, while also reducing your carbon foot print. These all-in-one air conditioning and heating systems optimize air flow throughout your home to use less energy and can save you up to 30% on your cooling and heating costs, plus they're quiet, cleaner and easy to install. Heat pumps are now more affordable than ever with National Grid rebates up to $1100 on mini-split and central air source heat pumps and up to $1500 on ground source heat pumps so you can save even more.
How do electric, heat pumps compare to other, traditional HVAC equipment?
Warmer. Heat pumps spread the warmth more efficiently than conventional oil, propane, or electric resistance heating systems.
Cooler. Heat pumps cool more efficiently when summer temperatures climb.
Comfier and cozier. Heat pumps provide quiet, even heating and cooling throughout your home or business.
Easier. Heat pumps last longer than conventional furnaces and AC units and require minimal maintenance.
Cleaner, healthier, and safer. There is no combustion of fossil fuels, fuel storage, or carbon monoxide emissions associated with heat pumps.
To learn more about what air or ground source heating and cooling technologies are best for you visit: nyserda.ny.gov/ngpumped.
Plus, ENERGY STAR® certified electric heat pump water heaters use electricity to move heat from one place to another, making them two to three times more energy-efficient than conventional electric water heaters—which means plenty of savings to enjoy.
As a bonus, we offer free installation of LEDs light bulbs, advanced power strips, low flow aerators and showerheads, and pipe wrap during the post inspection of all qualifying heat pumps!
Check out our rebates and save up to $1100 on mini-split and central heat pumps, up to $1500 on ground source heat pumps and up to $300 on heat pump water heaters.