Shape a Better Energy Future for Nantucket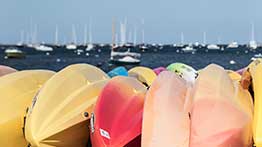 Whether you're a Nantucket homeowner, renter or landlord, National Grid offers services and incentives that will help you make your home more energy efficient.
No-Cost In-Person or Virtual Home Energy Assessments
Properly insulating and air sealing your home can help improve year-round comfort and cut your heating and cooling costs by an average of 20%. Schedule a Home Energy Assessment today to see if you can benefit from no-cost air sealing and 75-100% off approved insulation improvements. An energy specialist will take an on-site or virtual tour of your home and share energy and money-saving ideas, including additional rebates toward qualifying energy-efficient equipment. Sign up for a no-cost in-person or virtual Home Energy Assessment. An energy specialist will take an on-site or virtual tour of your home and share energy and money-saving ideas.
You could receive:
No-cost energy-saving products delivered to your door
75% or more off approved insulation and no-cost air sealing for year-round comfort
Additional rebates toward qualifying energy-efficient equipment


In-person assessments can be scheduling on the following days:
Get Assessment or call 1-844-615-8316
Small Business Energy Assessments
In addition to personalized recommendations you may receive:
Savings up to 70% of project costs
Incentives for efficient lighting upgrades
On-bill repayment* and other cost-management options available


Get Assessment or call 1-844-615-8316
---
Contactless Refrigerator and Dehumidifier Recycling Services
In partnership with the Town of Nantucket, we offer two recycling events to help you save money and energy and protect the environment.
Fridge and Freezer Recycling Pickup
Sign up today to have your old refrigerator or freezer picked up and recycled at no cost. Receive $75 for every fridge or freezer recycled.
2022 Refrigerator Recycling Dates:
Dehumidifier Turn-In Events
If you have a working, older-model dehumidifier that could use an upgrade, bring it to us and get a $30 rebate check in the mail. Simply drop it off at our event, and we will take it from there.
2022 Dehumidifier Turn-In Dates:
Please check back soon for 2022 dates.


Location
Public Safety Facility
4 Fairgrounds Road
Nantucket, MA 02554
ConnectedSolutions Program
The demand for electricity on Nantucket is growing, peaking from 5 - 10 pm in the months of July and August. National Grid is leading an initiative to empower the Nantucket community to reduce peak energy use. Whether you are a homeowner, renter, or run a small business, you can earn incentives from ConnectedSolutions by using your connected devices to help reduce electric use during periods of high energy demand.
Earn incentives by enrolling your home or small business battery system in ConnectedSolutions.
Electric Vehicle Charging Station Program
Partner with us to install new electric vehicle (EV) Level 2 or direct current fast charging ("DCFC") stations. We can help you save money by defraying the cost to install the charging stations, funding 100% of the electrical infrastructure for approved projects, and rebates for some charging station equipment installations.