Electric Transportation and Charging Programs
Partner with us to: install Level 2 or direct current fast charging ("DCFC") stations or participate in a fleet electrification study.
The Programs
Lead By Example: Go Green With National Grid.
Don't follow—be an environmental leader. Partner with us to install new electric vehicle (EV) Level 2 or direct current fast charging ("DCFC") stations.
We can help you save money by defraying the cost to install the charging stations, funding 100% of the electrical infrastructure for approved projects and rebates for some charging station equipment installations. See image below.

Installation of Charging Stations
By providing charging stations, you will be positioned at the top of the pack, as a leader committed to both environmental sustainability and your customers, employees and tenants.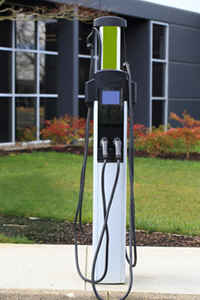 We help you with costs by funding, for approved projects, up to 100 percent of the electrical infrastructure and charging station equipment costs.
We help you select charging station equipment by providing a list of qualified Level 2 and DCFC charging station equipment for you to choose from
We help you distinguish your company as an environmental sustainability leader in your community, with customers, and with your employees and tenants.
We help you support Massachusetts clean air goals.
For more information:
Contact us EVNationalGrid@nationalgrid.com
Now accepting proposals from vendors experienced with charging station assessments and installations.
Experienced vendors should submit information on three to five charging station projects including references. Or contact us for more information.
Frequently Asked Questions
Are there other financial incentives available for the installation of EV charging stations?
Yes, financial assistance, complementing National Grid incentives, are currently available from MassDEP. More information is available at:
What programs are available to recognize companies that are leading the transition to clean transportation in the Commonwealth of Massachusetts?
MassEVolves is a public/private partnership aimed at recognizing companies. Please see https://www.massevolves.org/ for more information.
Contact us to discuss this service to support electrification of customer fleets. At this time this offering is limited to public transit, school buses, and government fleets. Customers with fleets outside of these segments may be eligible for other transportation programs offered by National Grid. Our team can connect you with additional programs you may be eligible for based on the information received.
For more information: Please complete attached.
Electric Vehicle Charging Station Program
Fleet Advisory Services