National Grid Unveils Beaver Lake Electric Vehicle Charging Stations
Apr 22, 2021 - 3:00 PM
Categories: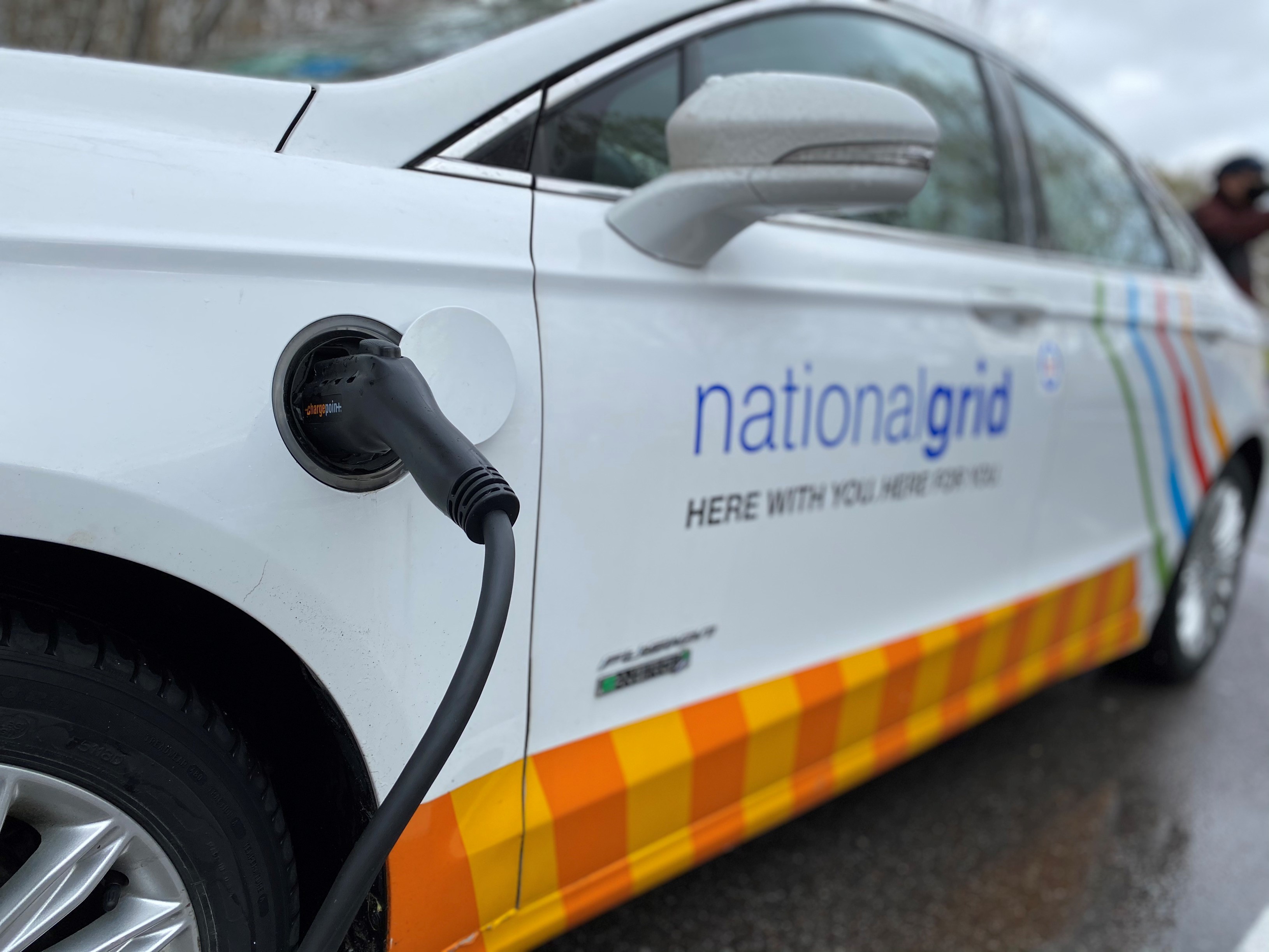 National Grid today unveiled new electric vehicle charging stations at Beaver Lake Nature Center near Baldwinsville in celebration of Earth Day. The stations were made available through NYSERDA's Charge Ready-NY Program and the installation was supported by National Grid's Electric Vehicle Charging Station Make-Ready Program. The Make-Ready Program can fund up to 100 percent of the electric infrastructure costs associated with new electric vehicle charging stations.
"Each year, we welcome thousands of outdoor enthusiasts to Beaver Lake, and each year more and more of them arrive in electric vehicles," said Onondaga County Parks Commissioner Brian Kelley. "We are eager to meet the needs of EV drivers and provide them with the opportunity to charge their vehicles while enjoying the park. What's more, Onondaga County has always been committed to environmental responsibility. Installing an electric vehicle car charging station is the next thing we can do to honor that commitment."
"The number of electric vehicles is growing across upstate New York and partnerships like this with Onondaga County Parks and Beaver Lake Nature Center will help increase that growth, and get us close to a more sustainable future," said Alberto Bianchetti, National Grid's Central New York Regional Director. "This partnership is part of National Grid's electric vehicle charger program that is aimed at supporting New York State's energy goal's by adding 16,000 new electric vehicle plugs in National Grid's upstate New York region by 2025."
Bianchetti noted that Beaver Lake is setting a great example of Onondaga County's sustainability commitment to the entire community. "Destination locations like Beaver Lake are perfect places for drivers to charge up."
National Grid is committed to a clean energy future and working every day for the benefit of customers and the environment while offering tremendous support for Earth Day each year in the communities where employees live and work.
National Grid is committed to taking on climate change and taking steps toward a clean energy future. As part of its work to achieve those targets, and in conjunction with its environmental policy and programs, National Grid will be at COP26 as a Principal Partner continuing its legacy of working with partners in government and private industry to find common ground and solutions for the climate crisis. In the U.S., National Grid has already achieved a 75 percent reduction in emissions across its business. The company's Responsible Business Charter and Net Zero by 2050 Plan lay the groundwork for sustained momentum toward a net zero future.
Learn more about how you can become an environmental leader and install an EV charging station at little or no cost, by visiting National Grid's Electric Vehicle Charging Station Make-Ready Program at www.ngrid.com/uny-evcharging.
About National Grid
About National Grid: National Grid (NYSE: NGG) is an electricity, natural gas, and clean energy delivery company serving more than 20 million people through our networks in New York, Massachusetts, and Rhode Island. National Grid is transforming our electricity and natural gas networks with smarter, cleaner, and more resilient energy solutions to meet the goal of reducing greenhouse gas emissions.
For more information, please visit our website, follow us on Twitter, watch us on YouTube, friend us on Facebook, and find our photos on Instagram.
Media Contacts
Related News