National Grid Breaks Ground on Geothermal Borehole on UMass Lowell Campus
Apr 19, 2023 - 1:00 PM
Categories: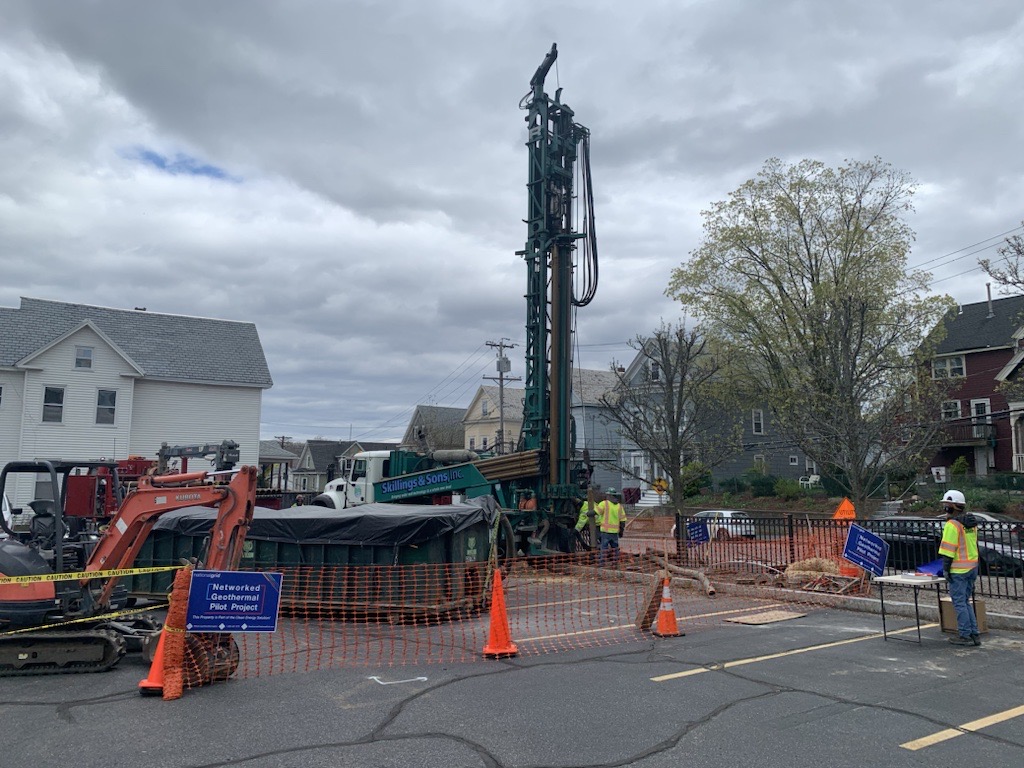 WALTHAM, MA – As the world celebrates Earth Week, National Grid today broke ground on its first geothermal pilot in partnership with the University of Massachusetts Lowell, the City of Lowell, and the local community.
The groundbreaking included a demonstration of the borehole drilling technology that will be used as a first step in studying the properties of the bedrock in the area and is a key milestone for the launch of National Grid's geothermal pilot, which is a multi-year initiative to bring clean energy to customers in the Acre neighborhood in Lowell.
"It's fitting that the theme of Earth Week 2023 is 'Investing in our Planet,'" said Stephen Woerner, President of National Grid New England.
"It's one we at National Grid take to heart since investing to meet our net zero goals is a critical part of delivering for our customers and communities and combating climate change.
Exploring geothermal technology is an important step as we all strive to reach NetZero by 2050."
Information gathered from the boreholes will help National Grid design a networked geothermal energy system — which uses the thermal properties of subsurface rock to help heat and cool buildings more efficiently — that will reduce greenhouse gas emissions by providing more efficient heating and cooling to a neighborhood adjacent to UMass Lowell's South Campus, which is currently served by natural gas.
"UMass Lowell's commitment to sustainability and fighting climate change spans across university operations, to community engagement, to more than $40 million in research in the last three years alone," said UMass Lowell Chancellor Julie Chen. "We're proud to partner with National Grid and the City of Lowell on this important project."
Heating homes and businesses currently represents more than a quarter of total carbon emissions. National Grid envisions a majority of buildings will be electrified by 2050, and significant energy efficiency will eliminate a full one-third of greenhouse gas emissions from buildings. Geothermal energy is an important component of that plan because of its potential to harness the Earth's energy to provide carbon-free geothermal heating and cooling.
"On behalf of the City of Lowell, we are so excited to be selected as the first community in National Grid territory to participate in this geothermal pilot," said Lowell City Manager, Thomas A. Golden, Jr. "This pilot not only has significant potential to help address climate change, but it also does so by engaging with our invaluable community partners, like UMass Lowell. The City of Lowell is all in to help make this project beneficial and equitable for our residents, supportive of the Commonwealth's emissions reduction goals, and worthy of emulation for more communities moving forward."
This is the first site selected under National Grid's Geothermal Pilot, which was approved in 2021 by the Department of Public Utilities.
As part of National Grid's efforts to help the Commonwealth meet its net zero goals by 2050 and the company's plan to do the same, the five-year geothermal demonstration program will evaluate the potential for networked geothermal energy systems that can be applied to other communities.
National Grid designed this networked geothermal pilot program to explore how geothermal networks can be used to eliminate leak-prone pipes from its existing gas network, assist with gas system constraints, reduce greenhouse gas emissions in environmental justice communities, and provide the benefits of clean energy to all customers, including those living in Gateway cities.
To learn more about the project, please visit the link here https://youtu.be/zdR-PmFbQbE
About National Grid
National Grid (NYSE: NGG) is an electricity, natural gas, and clean energy delivery company serving more than 20 million people through our networks in New York and Massachusetts. National Grid is focused on building a smarter, stronger, cleaner energy future — transforming our networks with more reliable and resilient energy solutions to meet state climate goals and reduce greenhouse gas emissions.
Media Contacts
Related News