National Grid Energizes Great Lakes Cheese Facility in Franklinville
Sep 21, 2023 - 08:30 AM
Categories: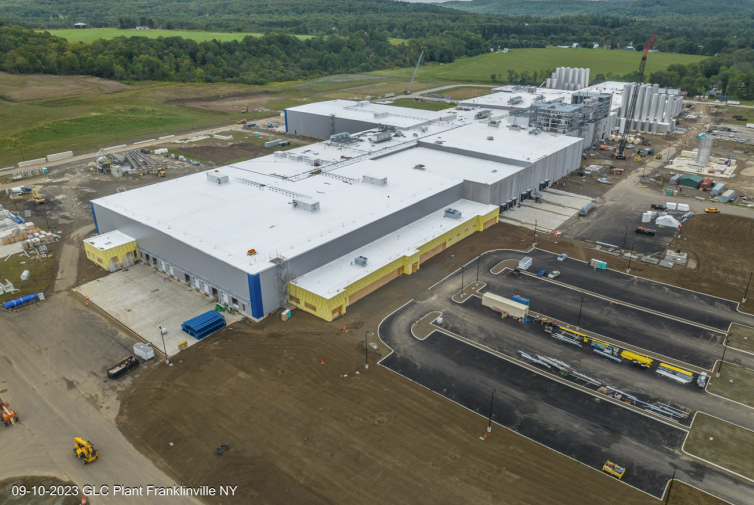 National Grid recently energized Great Lakes Cheese's new Franklinville manufacturing facility and, as an additional boost, has provided the company with more than $1.5 million in economic development, energy efficiency and EV Make-Ready funding. The grants will help the local manufacturer remain competitive and retain and add hundreds of jobs at its $621 million, 500,000-square-foot facility.
"Great Lakes Cheese has been working hand in hand with National Grid for more than three years to identify a viable location for our new manufacturing facility and packaging plant," said Matt Wilkinson, Vice President of IT and Business Development for Great Lakes Cheese. "Our operations are energy intensive and we need a reliable supplier who is as committed to the New York community as we are. We are grateful for National Grid's support to expand the electrical infrastructure necessary to make this project a reality."
National Grid Regional Director Ken Kujawa said that Great Lakes Cheese's new facility, the largest economic development project in Cattaraugus County, should promote regional employment as local agricultural jobs are retained.
"Some manufacturers will often compete for their parent company's corporate investment dollars," he said. "And when costs can be lowered and kept low for area companies like Great Lakes Cheese, it can help them to grow and prosper. That's where our programs can be of assistance, as they better position our customers to win those kinds of investments. Then, rather than consider options that may include cutting jobs or moving out of New York State, our customers can keep facilities local, build their workforces and achieve their goals."
National Grid Energizes Phase One for New Facility
On Sept. 8, National Grid energized phase one of the facility, which allows Great Lakes Cheese to begin testing processes and equipment in advance of its 2024 opening. A final energization phase, scheduled to be completed later this year, will tap a newly constructed 34.5 kV distribution line that is part of new infrastructure that delivers 15 megawatts of electricity to the facility.
When construction of the Franklinville site is complete in 2024, the facility will begin with packaging operations, then cheese manufacturing, and ultimately will close its Cuba, N.Y., plant and transition its more than 230 employees to the new location. In addition, when the new plant becomes operational, the company plans to hire at least 200 new employees and will double its cheese production. It's anticipated that daily milk purchases also will double, to 4 million pounds.
$500,000 Economic Development Grant
To help offset the costs of the new electricity infrastructure Great Lakes Cheese has been awarded a $500,000 economic development grant through National Grid's Electric Capital Investment Incentive program. The program assists companies with utility infrastructure upgrades that enable business expansion or new construction projects.
$1 million in Energy Efficiency Incentives
National Grid also will provide $1 million in energy efficiency incentives to support the new facility through its Energy Efficiency Program. Incentives are available for customers who install energy-efficient lighting, controls, HVAC equipment, motors/electronic speed controls and other systems that reduce energy use and/or enhance productivity. Great Lakes Cheese became eligible for the funding because the manufacturer is installing state-of-the-art lighting, refrigeration, and other pieces of equipment that will reduce annual energy consumption by a projected 6 million kilowatt-hours.
$33,000 provided for new EV charging stations
Through National Grid's EV Make-Ready program, Great Lakes Cheese received $33,000 to help offset about a third of the cost of installing eight plugs for EV drivers who may need a charge. A portion of funding also will be used to future-proof additional stations, as Great Lakes Cheese anticipates the needs of their employees and visitors.
Senator George Borrello, 57th Senate District, said: "National Grid's generous commitment to the development of the new Great Lakes Cheese manufacturing facility is greatly appreciated and the latest example of the willing collaboration that has moved this project forward from the start. The electricity infrastructure required for a facility of this scale is massive and costly, which is why the support that National Grid provided through their various programs was critically needed. My thanks go out to National Grid for their contribution and partnership in bringing this transformational project to life."
Assemblyman Joseph Giglio said: "The Great Lakes Cheese project is an example of how the cooperation of state and local government and agencies, utilities, and businesses can create major economic development and growth. From the very beginning, everyone worked together to make this plant a reality. We are fortunate to have partners at every level willing to invest in projects like this to ensure that manufacturing and job opportunities remain in this region. We are grateful for National Grid's grant to offset electricity infrastructure costs, which will provide a necessary boost to support the construction of the new Great Lakes Cheese manufacturing facility and packaging plant."
About National Grid
National Grid (NYSE: NGG) is an electricity, natural gas, and clean energy delivery company serving more than 20 million people through our networks in New York and Massachusetts. National Grid is focused on building a smarter, stronger, cleaner energy future — transforming our networks with more reliable and resilient energy solutions to meet state climate goals and reduce greenhouse gas emissions.
Media Contacts
Related News