Bringing Warmth to Central New York During the Holidays
Dec 21, 2021 - 12:11 PM
Categories: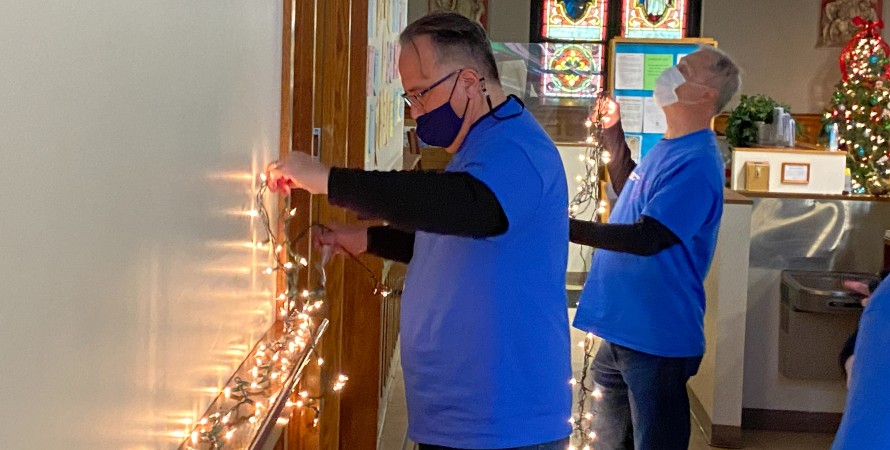 National Grid employees decorate the Samaritan Center in Syracuse.
National Grid's role as an energy delivery company is to bring electricity and gas to customers in our service area. At the holidays, company employees take additional steps to make the season bright and add warmth to the lives of others.
"Our employees continually go above and beyond to support those in need all year round and especially during the holidays," said Alberto Bianchetti, Central New York regional director for National Grid. "National Grid's commitment to the community through the Project C initiative embodies how we strive to improve the lives of our customers and those residing within our service area."
Project C is National Grid's community commitment to connect our communities to clean and sustainable energy; care for our neighborhoods and their revitalization; compassionately address the challenges our customers face, including environmental justice and social equity; create the workforce that will help build New York's clean energy delivery system; collaborate with our customers, community partners, stakeholders and so many others to deliver the clean, fair, resilient and affordable energy future.
"Project C provides us with focused attention and resources to address issues like social equity in our neighborhoods and communities," Bianchetti said. "Our employees live in the areas where we work and their efforts to support others in need of a hand personifies everything this company is about."
National Grid employees began the holiday season by decorating the dining area at the Samaritan Center on Syracuse's Northside. The visit is an annual service project for the National Grid team, which also volunteers there throughout the year serving hot meals to those that visit the facility.
The warmth of the holidays spread to the lives of children throughout the region.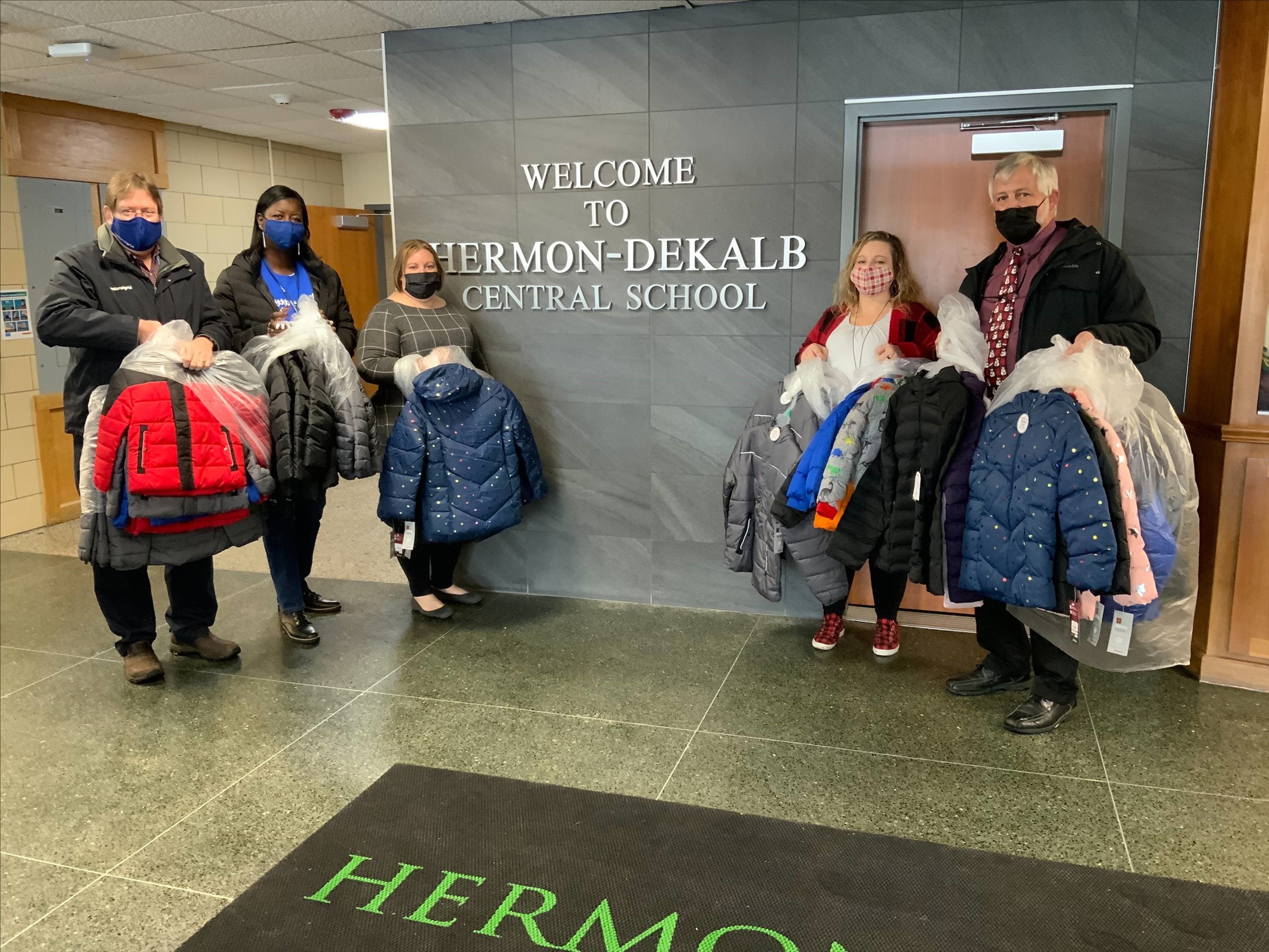 Leadership from Hermon-DeKalb Central School accept a donation of winter coats from National Grid staff. Pictured are (from left): Richard Burns and Gwen Sanders of National Grid; Rebecca Hocking, Megan Foster and Mark White of Hermon-DeKalb Central School
More than 200 children received new winter coats as a result of National Grid's donations to local coat drives. Upstate Medical University's Docs for Tots club, a student group for those interested in studying pediatric medicine, received 50 coats. The club will distribute them to students in the Syracuse City School District. National Grid donated an additional 50 coats each directly to schools in the Utica City School District, Hermon-DeKalb Central School and Watertown City School District.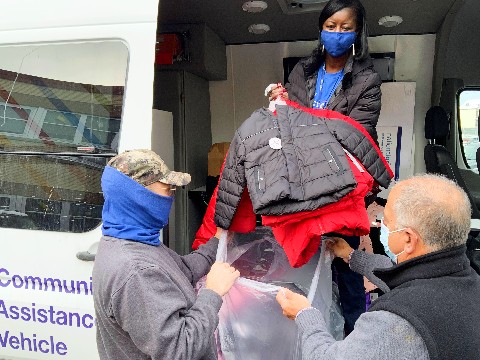 Custodian Ralph DeSantic (left) helps Gwen Sanders and Tom Colucci of National Grid with a delivery coats for students at Martin Luther King Elementary School in Utica.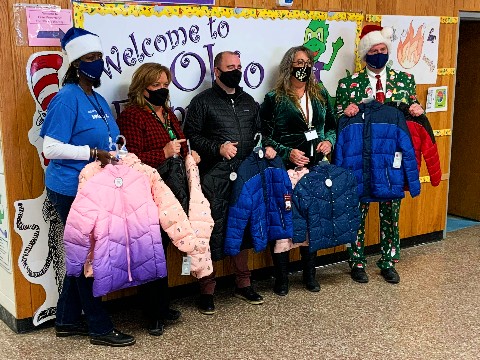 National Grid's Gwen Sanders (left) and Jerry Haenlin (right) deliver coats to Ohio Elementary School in Watertown. Pictured, from left, are Watertown City School District Superintendent Patricia LeBarr, and home school coordinators Craig Randall and Leslie Atkinson.
National Grid employees also sponsored 46 families served by the McMahon Ryan Child Advocacy Center through its Holiday Angel program. The Holiday Angel program identifies 200 families per year to receive holiday gifts, personal needs like clothing, shoes and winter coats, and household supplies. Staff loaded a large truck plus three SUVs with boxes and bags to donate to the center, which provides advocacy, education and support to victims of child abuse and exploitation.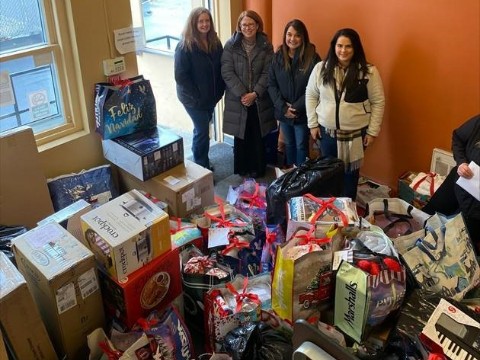 National Grid employees deliver gifts and homegoods to families served by the McMahon Ryan Child Advocacy Center. Pictured (from left) are National Grid employees Kellie Smith, Laura Tadevossian, Melissa Barnes and Kara Krueger.
National Grid's donations were not just to the young, but the young at heart.
Social isolation and loneliness are major barriers for older adults at the holidays. Employees at the company's Syracuse Office Complex decorated 220 miniature Christmas trees that were delivered to residents at nearby Bishop Rehabilitation and Nursing. The project was supported by PGR Foundation, a Syracuse-based nonprofit aimed at empowering girls through mentoring and service. It's the second consecutive year of the partnership with the foundation.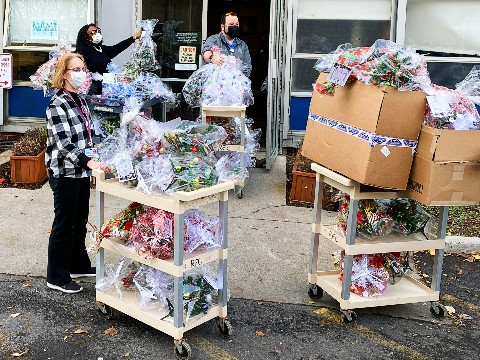 Staff from Bishop Nursing & Rehabilitation in Syracuse receive a delivery of miniature Christmas trees decorated by National Grid employees.
National Grid employees are also part of the region's largest charitable holiday event: the Salvation Army Christmas Bureau. Generous individual and corporate donors provide food and gifts to thousands of income-eligible families from across central New York that register for the program. In addition to purchasing toys and clothing to donate, company employees volunteered as personal shoppers for the families in attendance and helped restock tables with merchandise.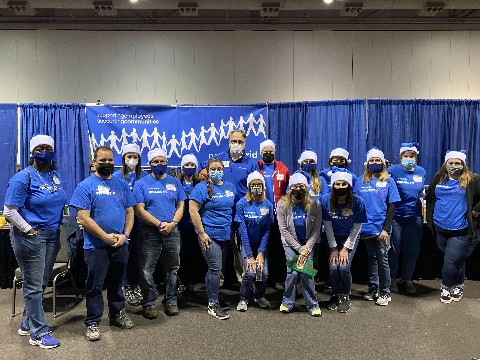 National Grid employees staffed the Salvation Army Christmas Bureau from open to close.
About National Grid
About National Grid: National Grid (NYSE: NGG) is an electricity, natural gas, and clean energy delivery company serving more than 20 million people through our networks in New York, Massachusetts, and Rhode Island. National Grid is transforming our electricity and natural gas networks with smarter, cleaner, and more resilient energy solutions to meet the goal of reducing greenhouse gas emissions.
For more information, please visit our website, follow us on Twitter, watch us on YouTube, friend us on Facebook, and find our photos on Instagram.
Media Contacts
Related News