More than $2.6 Million in Economic Development Grants Support Central, Northern New York Projects
Feb 10, 2022 - 9:30 AM
Categories: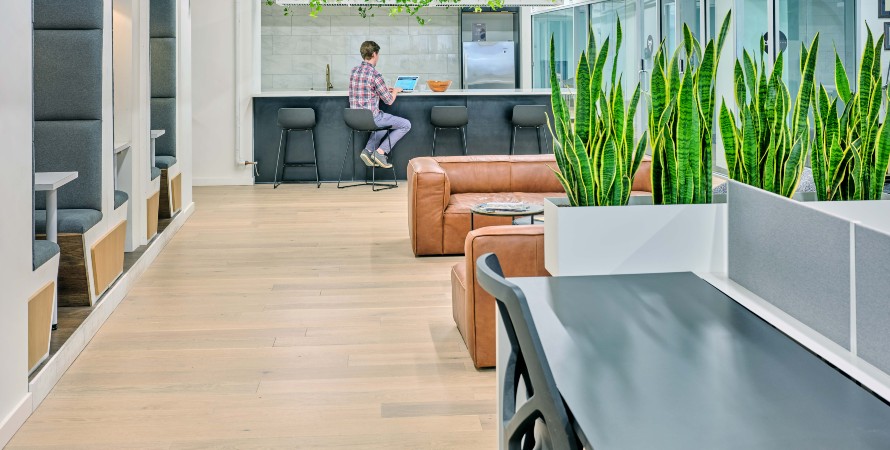 Pictured above: CommonSpace's Downtown Syracuse co-working offices. National Grid provided incentives in 2021 for the company's expansion.
National Grid invested more than $2.6 million in economic development funds in calendar year 2021 for projects in central and northern New York aimed at growing the regional economy. The company maintains a portfolio of
economic development programs
to restore vacant buildings, revitalize commercial corridors, and remediate brownfields to spur new business, expansion, and job growth.
"National Grid is more than just an energy delivery company," said Alberto Bianchetti, regional director for National Grid. "We contribute to the engine powering the local economy by incentivizing projects that remediate and revitalize brownfields and vacant storefronts, promote entrepreneurship, and keep businesses in Central New York. These investments fuel economic growth, job creation and retention, and new business opportunities that have a positive impact on everyone living in the region."
National Grid's economic development programs align with the goals of
Project C
, a reaffirmation of the company's commitment to the communities in which its employees live and work. The initiative is dedicated to leaving a lasting impact in areas including sustainability, neighborhood and community investment and workforce development.
"Communities directly benefit from National Grid's economic development efforts as we help local businesses grow and attract new development to our region," Bianchetti said. "Our customers see tangible benefits from these investments through an expanded job market, access to new businesses, and reinvigoration of the places where they live."
National Grid contributed to the creation of the area's first food hall, projects that created and retained local jobs, and the renewal of blighted properties in highly trafficked commercial areas, including: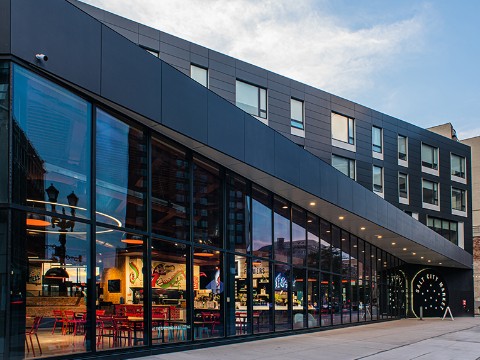 National Grid's Main Street Revitalization program provided support for Syracuse's Salt City Market.
Salt City Market receives $250K for good eats, affordable housing
Project:
Salt City Market
was one of Syracuse's most highly anticipated projects of 2021. The downtown site received substantial media coverage as the area's first food hall, home to 11 restaurants and a grocery store. The property also houses community use rooms, leasable office space for nonprofit organizations, and 26 one- and two-bedroom apartments. Half of the apartments are reserved for low- to-moderate-income tenants. More than 100 construction jobs, 30 food service and three management positions were created by this initiative.

Funding:
$250,000 was awarded through National Grid's Main Street Revitalization program, providing support for redevelopment of vacant buildings in commercial corridors.
United Auto Supply to build distribution center on Erie Boulevard WestProject:
United Auto Supply
, one of the largest auto parts wholesalers in the Northeast, plans to build an 80,000-square-foot warehouse and distribution center as a redevelopment of the former Roth Steel site on Erie Boulevard West in Syracuse. The company will invest $7.5 million in the site, resulting in more than 150 construction jobs and 50 new, permanent full-time positions at the company.
Funding:
$250,000 from the Main Street Revitalization program.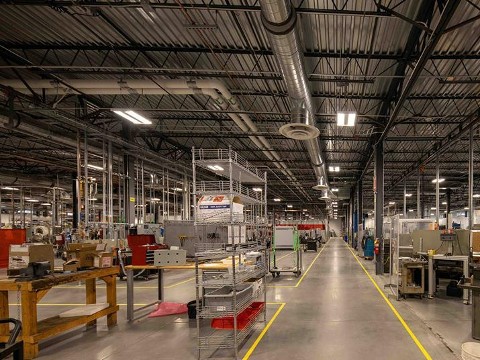 When Cryomech's production facility in DeWitt reached capacity, it was able to offset costs of expansion through incentives from National Grid.
Cryomech expansion receives support from two programs
Project:
Cryomech
acquired 14 acres of the former Brooklawn Golf Course in DeWitt to build a 76,500-square-foot facility to house development and manufacturing systems for high-performance cryogenic equipment and helium management systems. The company reached capacity at its existing buildings, requiring additional space to meet customer demands. Cryomech resisted offers to relocate out of state, adding 20 new positions to the 121 individuals it already employs in Central New York.
Funding:
More than $114,000 from two capital investment incentives to offset costs associated with upgrading utility infrastructure at new construction or expansion sites. National Grid provided more than $71,000 from its
Electric Capital Investment Incentive
program and $43,000 from the
Natural Gas Capital Investment Incentive
program.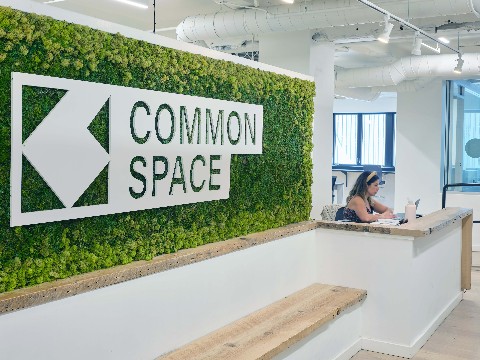 The CleanTech Incubation program helped CommonSpace expanded its presence in Downtown Syracuse.
CommonSpace expansion promotes business growth in Downtown Syracuse
Project:
CommonSpace
's coworking environments have grown in popularity among entrepreneurs, contractors, and remote work professionals. The spaces provide opportunities for collaboration across industries and access services out of reach for startups and freelancers. CommonSpace added 15,000 square feet of space at 349 and 351 S. Warren St. to complement its flagship space at 201 E. Jefferson St.
Funding:
$100,000 through the
CleanTech Incubation
program, which supports development of self-sustaining entrepreneurial and innovation ecosystems that facilitate formation of new ventures or growth of high potential small ventures.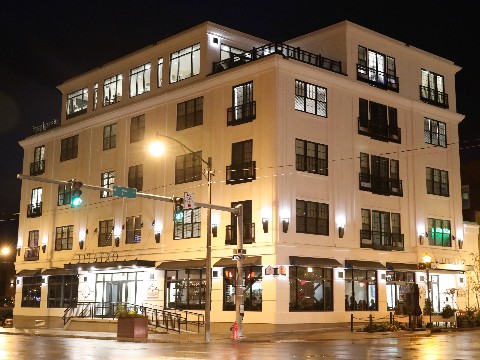 Lights shine on the Litatro Building in Oswego. National Grid's Main Street Revitalization program assisted with its construction.
Litatro building project renews prime location in OswegoProject:
A $4.9 million renewal project in the center of Oswego turned an empty building into a vibrant, modern space. Demolishing the former Global Buffet building and constructing the
five-story Litatro building
at the corner of West First and Bridge Streets brought more than 20 market-rate apartments, plus commercial and restaurant space.
Funding:
$65,000 from the Main Street Revitalization program.
Watertown Public Square projects continue
Project:
A renovation project on Court Street in
Watertown's Public Square
has converted a vacant building to a multi-purpose space. Local developer S&J Properties, LLC will renovate the buildings located at 168-170 Court St. to house a restaurant and event space. Upper floors will be market-rate apartments. The structure, built in the 1870s, is one of three projects on Court Street and a half-dozen on the Public Square to receive support from National Grid.
Funding:
Provided by the Main Street Revitalization program.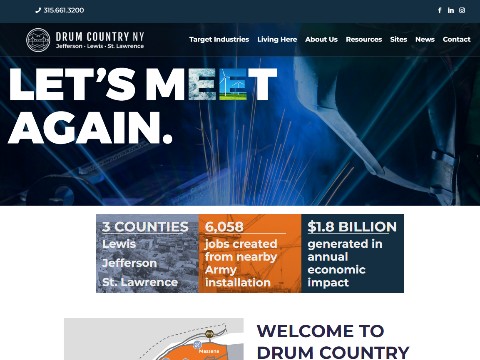 A new web presence was part of the investment in Drum Country NY's marketing program
Development Authority of the North Country helps reboot Drum Country NY marketing program
Summit Storage and Business Solutions renovates building
Project:
Summit Storage and Business Solutions
transformed a vacant building adjacent to its property in Potsdam into an energy-efficient workspace and secure document shredding facility, adding 10,250 square feet of self-storage units to its business. The vacant building was gutted, renovated, and a new building façade and entryway were built. A roadside LED sign was also added.
Funding:
$25,000 from the Main Street Revitalization program.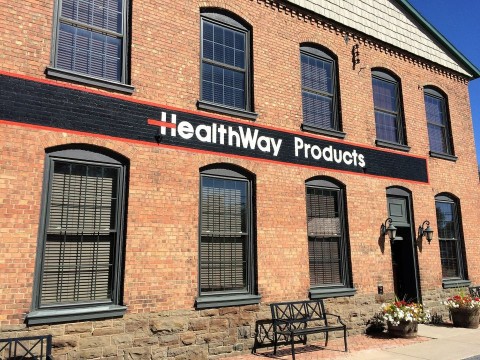 Healthway Home Products expanded its Pulaski headquarters with assistance from National Grid
Healthway Home Products retains 30 jobs and stays in Pulaski
Project:
A public-private partnership prevented a Pulaski business from relocating to Florida.
Healthway Home Products
expanded its Maple Avenue building in Pulaski, and an upgrade in electric service to a higher amperage provided the capacity to support growth and operations.
Funding:
$19,000 from the Electric Capital Investment Incentive program.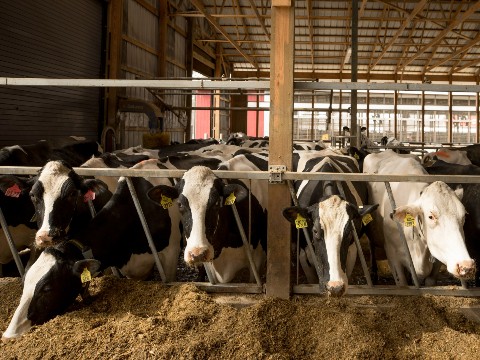 Dairy cattle at feeding time. National Grid has programs to assist agribusiness with energy efficiency and productivity.
Lewis County farm adds energy-efficient barn
National Grid's Economic Development Programs
Since 2003, National Grid's 18 economic development programs have provided more than $125 million in assistance, helping to create or retain more than 60,000 jobs and supporting almost $10 billion in private and public investment across upstate New York. More information about National Grid's suite of programs is available at
www.shovelready.com
.
Additionally, National Grid provides economic development support during the pandemic through its
Manufacturing Productivity Program
. The program fast tracks economic development requests to assist businesses that transitioned their facilities to produce critical medical equipment and supplies needed to fight COVID-19.
About National Grid
About National Grid: National Grid (NYSE: NGG) is an electricity, natural gas, and clean energy delivery company serving more than 20 million people through our networks in New York, Massachusetts, and Rhode Island. National Grid is transforming our electricity and natural gas networks with smarter, cleaner, and more resilient energy solutions to meet the goal of reducing greenhouse gas emissions.
For more information, please visit our website, follow us on Twitter, watch us on YouTube, friend us on Facebook, and find our photos on Instagram.
Media Contacts
Related News