National Grid Crews Continue Labor-Intensive Restoration Efforts as Three-Day Nor'easter Subsides in Eastern New York
Mar 15, 2023 - 12:00 PM
Categories: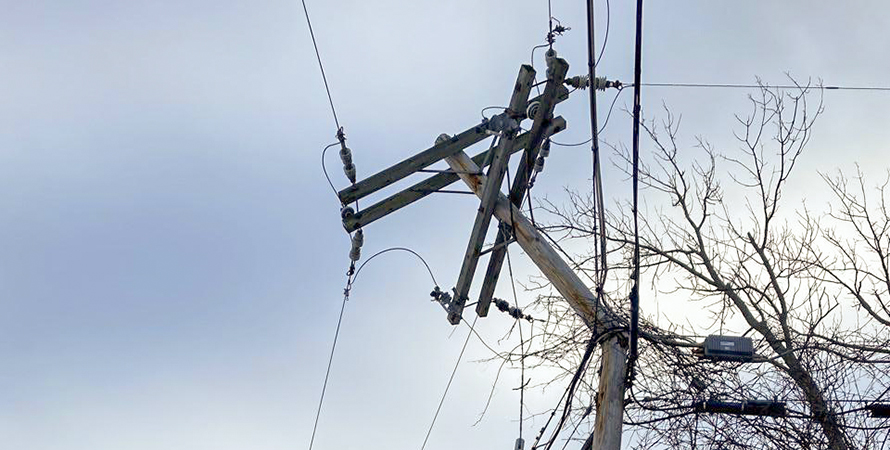 National Grid's eastern New York field force has grown to more than 3,300 line, service, tree, damage assessment and public safety workers who continue around-the-clock power restoration as the destructive three-day nor'easter moves out of the region today. As of 11 a.m. crews have restored service to nearly 125,000, or 90 percent, of the nearly 139,000 Greater Capital Region customers who lost electricity service due to the storm's extensive damage.
The long-duration nor'easter brought more than two feet of snow and 45 mph winds to some locations, which resulted in uprooted trees, downed tree limbs and wires, broken poles and damaged transformers. The storm created hazardous travel and work conditions, as well as equipment damage in remote, wooded areas off roadways. The hardest-hit counties include Columbia, Essex, Rensselaer, Saratoga, Schenectady, Warren and Washington.
Estimated Restoration Times
National Grid estimates power will be restored by 11:30 p.m. today for customers who remain without service due to the storm, with isolated and scattered single customer outages in the hardest-to-access areas potentially extending into Thursday morning. Crews will do everything within their control to complete restoration as quickly and as safely as possible. The most accurate way for customers to check on the power restoration estimate for their specific address is to log into National Grid's Report or Check Outage page.
The company reminds customers who are without service when their neighbors have had power restored to call National Grid at 1-800-867-5222 or report the outage report through our website.
"We thank all of our customers for their continued patience and understanding as we advance closer to completing service restoration. Our field force will remain active in the region until the last outage is resolved," said Matt Barnett, National Grid's vice president of electric operations. "On behalf of National Grid, I want to extend a special thanks to the police, fire, public works, municipal officials, and other volunteers who continue to support our customers and our communities during the post-storm recovery."
Dry Ice and Bottled Water Locations
To support customers impacted by the nor'easter, National Grid will distribute dry ice and bottled water at targeted locations hardest hit by the storm from 1 p.m. to 5 p.m. today. Customers are asked to bring a cooler or paper grocery bags to transport dry ice to their homes, and company personnel will provide information about its proper handling.
Rensselaer County

Washington County

March 15: 1 p.m. to 5 p.m.

Rensselaer County Office Building

99 Troy Road

East Greenbush, NY 12061

March 15: 1 p.m. to 5 p.m.

Argyle Fire Department

5072 State Route 40

Argyle, NY 12809
The Restoration Process
The company's first priority is to ensure the safety of our customers and our crews by clearing away dangers such as live, downed power lines. Next comes repairs to main transmission facilities, including towers, poles and high-tension wires that deliver power to thousands of customers. Recovery work at local substations also is a high priority, followed by repairs to neighborhood circuits, transformers and service wires. Click here for a video about how National Grid restores power after a storm.
Safety Near Downed Power Lines
Stay away from downed power lines and wires; use caution if one is nearby, and always assume that they are carrying live electricity.
Never touch a person or an object that is in contact with a downed line, as electricity can pass through to you.
Take caution when approaching fallen trees, which could have power lines caught in them.
Remember that water can conduct electricity. If you see a line down in a puddle or flooded area, avoid contact with the water to prevent risk of shock.
Learn more about downed power line safety at our website.
The company also offers the following important safety reminders for customers and snow removal contractors who are clearing snow near electricity and gas equipment.
Snow and Ice Safety
The photos below illustrate how snow and ice accumulation on roofs can place a burden on electricity service wires - also known as the weatherhead - that bring energy into the home. These wires are live and are a potential hazard to anyone attempting to clear snow. As snow and ice are removed, inspect the connection point from a safe distance to be sure that it hasn't been pulled away from the house, which would create a potential fire hazard.
National Grid also reminds home and building owners to be especially cautious as they work to clear snow and ice by following these safety recommendations:
Stay at least 10 feet away from overhead power lines at all times.
Keep all ladders, shovels, roof rakes and other devices well clear of any lines coming from the street to the structure, regardless of the material the equipment is made from. In extremely wet conditions, even wood can conduct electricity.
Start clearing snow from the opposite end of the roof from the service point where electricity is delivered.
The buildup of ice and snow around or over natural gas meters, regulators and pipes can pose a serious safety risk. Ice and snow falling from a roof can damage gas meters or service connections to customers' homes or businesses, resulting in potential gas leaks. Customers should take immediate action if a natural gas leak is suspected:

Get out – All occupants should leave the house immediately. Do not use the telephone, light switches or automatic garage door openers for any reason.
Call us – After leaving the house and reaching a safe environment, call National Grid's 24-hour gas emergency number: 1-800-892-2345.
Stay out – Don't return to your home until National Grid tells you it is safe to do so.

Cleared snow should never be piled around vents. A blocked vent can lead to the buildup of deadly carbon monoxide.

The symptoms of carbon monoxide poisoning are similar to those of the flu, and can include headaches, weakness, confusion, chest tightness, skin redness, dizziness, nausea, sleepiness, heart fluttering or loss of muscle control. If you suspect carbon monoxide is present in your home, immediately go outside and breathe deeply. Then call 911.

When clearing snow, customers and snow removal contractors should be aware of the location of natural gas equipment to avoid coming into contact with meters, hitting outside gas risers, or piling snow around vents mounted on the outside of buildings, which can cause the dilemma illustrated below:
| | |
| --- | --- |
| | |
More tips to remember:
Customers are reminded to remain aware of potential safety hazards such as damaged trees, particularly broken limbs that haven't yet fallen to the ground. As always, customers are reminded to keep safety a priority by avoiding downed wires. All wires should be considered live and should be immediately reported to National Grid at 1-800-867-5222 or by calling 911.
If a power outage occurs, customers can notify National Grid online to expedite restoration.
Generators used to supply power during an outage must be operated outdoors to prevent the buildup of deadly carbon monoxide. Before operating a generator, be sure to disconnect from National Grid's system by shutting off the main breaker, located in the electric service panel. Failure to do this could endanger our crews and your neighbors.
Customers who depend on electrically powered life support equipment, such as a respirator, should register as a life support customer by calling National Grid at 1-800-642-4272. In a medical emergency, always dial 911.
Please use caution when driving near emergency responders and crews restoring power.
Be sure to check on elderly family members, neighbors and others who may need assistance during an outage.
Stay Informed and Connected
Customers with active electricity accounts who text 'REG' to 64743 can have personalized alerts sent to them via text, email or phone call when we detect an outage on their property.
Customers also can text 'OUT' to 64743 to report an outage.
For real-time power outage information, online outage reporting, and in-depth storm safety information, visit National Grid's Outage Central website. Customers who create an online profile also can sign up for email alerts.
Customers can read the latest company news, check outage status and report an outage by using the National Grid app.
Visit our website: www.nationalgridus.com, follow us on Twitter and friend us on Facebook.
About National Grid
National Grid (NYSE: NGG) is an electricity, natural gas, and clean energy delivery company serving more than 20 million people through our networks in New York and Massachusetts. National Grid is focused on building a path to a more affordable, reliable clean energy future through our
fossil-free vision
. National Grid is transforming our electricity and natural gas networks with smarter, cleaner, and more resilient energy solutions to meet the goal of reducing greenhouse gas emissions.
Media Contacts
Related News