National Grid Mobilizes Hundreds of Employees for Its Inaugural "Week of Service" across Massachusetts
Sep 11, 2023 - 11:15 AM
Categories: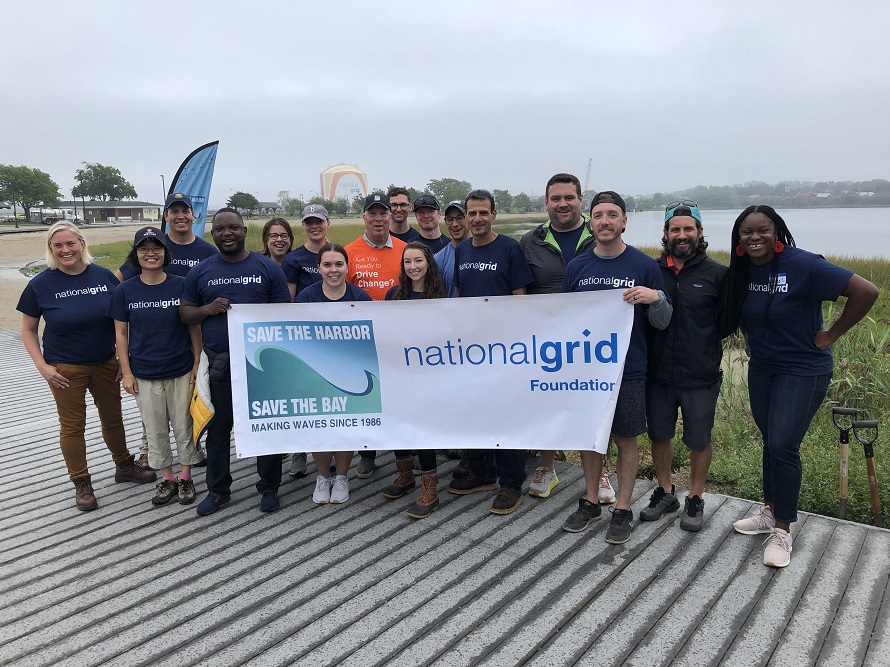 WALTHAM, MA – Furthering its ongoing commitment to supporting the communities it serves, National Grid New England today kicked-off of its inaugural Week of Service.
Beginning today, September 11th, hundreds of National Grid New England employees will volunteer in support of community organizations across Massachusetts. During this week of volunteering, National Grid employees will hold more than a dozen events, supporting ten community organizations and dedicating hundreds of hours towards a range of activities, including:
Promoting environmental stewardship and protection through beach cleanups in Dorchester
Supporting veterans and their families in Worcester
Preparing nutritious, medically tailored meals for homebound individuals in Jamaica Plain
Sorting and packing critical winter clothing items for children throughout Massachusetts who need them this winter.
National Grid's Week of Service is part of its newly launched "Grid for Good" program, a larger companywide corporate responsibility and impact initiative that supports the communities we serve through volunteerism and charitable contributions to organizations that focus on workforce development and STEM education, economic opportunity and social justice, and environmental stewardship and sustainability. This year, National Grid has a goal to engage colleagues in more than 14,500 hours of service throughout the Commonwealth.
"Our Massachusetts customers and communities are at the heart of everything we do at National Grid," said Stephen Woerner, President of National Grid, New England. "Serving more than 2 million customers in more than 240 cities and towns across the state, everyone at National Grid is committed to making a lasting impact in the neighborhoods in which we live and work. Through our 'Grid for Good' program, National Grid is proud to empower its more than 6,500 employees to volunteer their time and efforts throughout the year, and especially during our dedicated Week of Service to help drive positive change in their community."
In addition to volunteer service, National Grid is further demonstrating its commitment to the community through its financial support. Through Grid for Good, National Grid will contribute at least $4 million in funding to organizations that align with its three responsibility and impact pillars:
Workforce Development and STEM education
Economic opportunity and social justice
Environmental stewardship and sustainability - Focusing on historically underrepresented and overburdened communities.
Over the next five days, National Grid New England will partner with several organizations, including the following:
Monday, September 11: Community Servings, 179 Amory Street, Jamaica Plain; Save the Harbor/Save the Bay, 68 Denny Street, Dorchester, MA
Tuesday, September 12: American Red Cross Food Pantry, 1033 Massachusetts Avenue, Boston, MA
Wednesday, September 13: American Red Cross Food Pantry, 1033 Massachusetts Avenue, Boston, MA; Cradles to Crayons, 281 Newtonville Avenue, Newton, MA; The Rose Kennedy Greenway, Rose Kennedy Greenway, Boston, MA
Thursday, September 14: Cradles to Crayons; 281 Newtonville Avenue, Newton, MA
Friday, September 15: American Red Cross Food Pantry , 1033 Massachusetts Avenue, Boston, MA; The Greater Worcester Land Trust , 44 Tory Fort Lane, Worcester, MA; Preservation Worcester , 61 Harvard Street, Worcester, MA; Veterans, Inc. , 6 Sheridan Street, Worcester, MA; Worcester Green Corps, Worcester, MA
National Grid has a companywide commitment to 500,000 employee volunteer hours by 2030, outlined in its renewed Responsible Business Charter.
In addition to Grid for Good in Massachusetts, the company launched a strategic Workforce Development Program earlier this year, which provides education, training, and development opportunities for young people and adult learners from underrepresented communities throughout the Commonwealth in partnership with thirteen academic and community-based organizations. This program is designed to engage and educate individuals in the communities served about opportunities for clean energy careers, including those at National Grid, and provide the necessary skills, training, and support needed for them to secure jobs with either National Grid or others in the industry. More information about these programs can be found here.
About National Grid
National Grid (NYSE: NGG) is an electricity, natural gas, and clean energy delivery company serving more than 20 million people through our networks in New York and Massachusetts. National Grid is focused on building a smarter, stronger, cleaner energy future — transforming our networks with more reliable and resilient energy solutions to meet state climate goals and reduce greenhouse gas emissions.
Media Contacts
Related News