National Grid Volunteers Donate Thanksgiving Meals to the Riverhead Community
Nov 21, 2022 - 10:30 AM
Categories: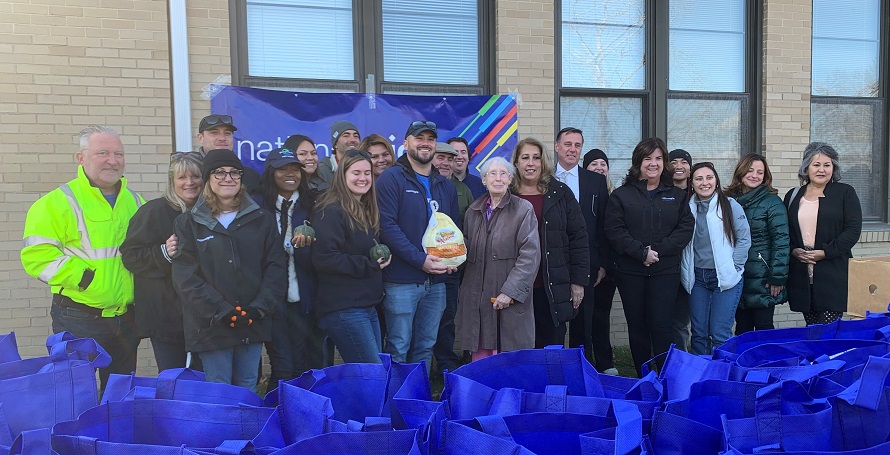 For the fourth year in a row, National Grid volunteers distributed Thanksgiving meals to over one hundred Riverhead families who are in need at The North Fork Spanish Apostolate. Families received Thanksgiving meal essentials including, turkey, ham or chicken, potatoes, vegetables, and dessert.
Food insecurity on Long Island is on the rise with food prices nearly doubling since last year. Long Islanders are feeling the financial hardship hitting the dinner table. Thanksgiving dinner costs are up 13% more this year than last year making it difficult for many to celebrate this Thanksgiving.
National Grid consumer advocates were available to offer assistance to families to save on their energy bills and take advantage of our many programs like the Energy Affordability Program and Home Energy Assistance Program (HEAP).
Along with food distribution, participants also received window coverings to keep heat from escaping their home, which will help save on energy costs.
National Grid's Season of Giving is part of Project C, the company's commitment to drive positive impact throughout New York communities.
"Long Islanders are struggling this year, and no one should have to go hungry," said Kathy Wisnewski, Director of Customer and Community Engagement, National Grid. "We are glad to provide these families with the food they need to enjoy Thanksgiving. National Grid has kicked off our Season of Giving by expanding our commitment to help customers who are struggling to make ends meet this winter. We have two new programs, The Hope and Warmth Energy Fund and Hearts Fighting Hunger, both support low to moderate income families."
Special thanks to Farmingdale Meat Market for supplying the turkey, chicken and ham and Stop & Shop for providing the Thanksgiving trimmings.
"Everyone deserves to celebrate the Thanksgiving holiday with a warm meal surrounded by their loved ones," said Suffolk County Executive Steve Bellone. "I would like to thank National Grid and The North Fork Spanish Apostolate for helping Long Islanders who are struggling with food insecurities. It is because of volunteers like you, that the holidays are able to be a little brighter for those in need."
National Grid is honored to be back at the North Fork Spanish Apostolate and support the Town of Riverhead community. Riverhead Town Supervisor Aguiar helped distribute food with volunteers.
"Thank you, National Grid, for your continued support in Riverhead. Your donations today help Riverhead address the global food crisis," said Supervisor Aguiar.
Legislator Al Krupski joined the event and brought squash, cabbage and other fresh vegetables from his family's farm as he has done every year.
"Food insecurity is a growing problem on Long Island, despite Suffolk County being one of the most agriculturally productive counties in New York State," said Suffolk County Legislator Al Krupski, himself a farmer. "I am grateful for organizations like Island Harvest which step up, and Ï appreciate National Grid for sponsoring this food drive at a time of need for many individuals and families. I am happy to contribute some of our local bounty."
Senator Palumbo also came to help and wish all a happy Thanksgiving.
"Thanksgiving is a time of reflection and an opportunity to strengthen the bonds of family and community. I was pleased to join National Grid and the North Fork Spanish Apostolate to provide Thanksgiving meals for families in need throughout Riverhead for their holiday celebration," said Senator Anthony Palumbo.
About National Grid
National Grid (NYSE: NGG) is an electricity, natural gas, and clean energy delivery company serving more than 20 million people through our networks in New York and Massachusetts. National Grid is focused on building a path to a more affordable, reliable clean energy future through our
fossil-free vision
. National Grid is transforming our electricity and natural gas networks with smarter, cleaner, and more resilient energy solutions to meet the goal of reducing greenhouse gas emissions.
Media Contacts
Related News