Upstate NY customers can reduce your costs with the voluntary time-of-use rate (SC-1 VTOU) by charging your electric vehicle during the off-peak hours of 11pm to 7am. Most EVs can be easily programmed to charge during these hours using an onboard timer, mobile app, outlet timer, or EV charging station.
---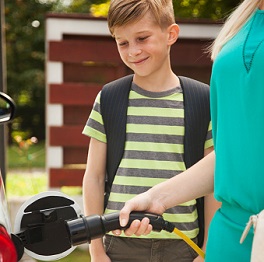 This rate has three key features for EV drivers:
Upstate NY customers can reduce their energy costs by shifting their EV charging – and other appliance use – to the off-peak hours of 11 pm to 7 am.
After the first year on this rate, National Grid will reconcile the total amount paid with what you would have paid on the standard, non-time-of-use SC-1 rate. If you would have paid less on the SC-1 rate, then we will provide you with a one-time bill credit for the difference. This reconcilement will only occur at the end of the first year and not in subsequent years. Please see below for more information regarding eligibility for this reconcilement.
Every year, on an annual basis, you have the option to stay on the SC-1 VTOU rate or return to the SC-1 rate.
To sign up, email us to express interest in the VTOU rate or call 1-800-664-6729, Monday through Friday, 8 a.m. to 5 p.m.