ConnectedSolutions Gas
Make your smart thermostat look smarter with ConnectedSolutions Gas
Whether you are a homeowner or run a small business, our ConnectedSolutions Gas program works with your thermostat to reduce natural gas use during periods of high energy demand in your community, while ensuring your safety and comfort.
Enroll to earn a $25 instant incentive, and an additional $25 annual incentive* for every thermostat connected to a natural gas boiler or furnace.
*Beginning in the second year of participating in the program, and each subsequent year you are enrolled.
Are you already enrolled in ConnectedSolutions Electric?
Customers who are already enrolled in the ConnectedSolutions Electric program and wish to participate in the Gas program must enroll in the latter separately. ConnectedSolutions electric and gas programs operate separately and require separate enrollments at this time.
Sign up for ConnectedSolutions Gas
How it Works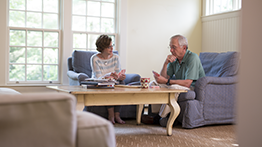 On extremely cold days, when the demand for natural gas is at its highest in Upstate New York, it is important to conserve energy. Reducing your natural gas use at these times reduces energy costs. By shifting your energy use for a couple of hours during peak demand days you can help lower the stress on our system, save money and ensure our communities are safe and comfortable.
ConnectedSolutions Gas has made it easy for you to conserve energy during these times and will reward you for your participation. After you enroll a qualified, wi-fi enabled thermostat connected to your boiler or furnace, we will automatically send it a signal to preheat your home or small business before the peak event times and then temporarily decrease the temperature by a couple of degrees for the duration of the event. After the event has passed, your thermostat will automatically go back to your preferred temperature.
Here is some information on when peak events may occur:
November-March on days when temperatures drop well below average
6 a.m. to 10 a.m. or 4 p.m. to 8 p.m.
There are typically 2 – 5 peak events every winter.
You can opt out of a peak event anytime by changing your thermostat setting.


You can opt out of most or even all peak events; however, we may unenroll you from the program for the following year if the program is not a good fit for you.
To be eligible, you must be a National Grid New York residential or small business gas customer located in Upstate New York and use natural gas as the primary source of heat in your home or business.
The thermostats supported by this program are:
Sensi (Emerson)
Honeywell (including Lyric)
Lux
Nest
Ecobee
FAQs
Yes. The ConnectedSolutions Electric program operates separately from the Gas program. If you have already been enjoying the benefits and rewards of the electric program during the summer months and wish to participate and earn rewards in the gas program in winter, you are required to enroll for the gas program separately.
No. The winter rewards are created to reduce natural gas demand during the coldest days of the year, whereas the electric program only offers rewards for demand reduction during the summer months.
A natural gas heating system is a furnace or boiler that provides heating for the entirety (or at least the majority) of a home or small business.
Homeowners qualify for rebates on supported Wi-Fi Thermostats. Find yours:
For Small Businesses please call 1-800-332-3333 for information.
Unfortunately, you are not eligible* for ConnectedSolutions if you don't have a natural gas heating system. Explore our website for other ways you can save energy.
* To be eligible, you must be a National Grid New York small business or residential natural gas customer located in Upstate New York and have natural gas heating system connected to a qualified wi-fi enabled thermostat.
If you would like to unenroll, please email nationalgridnygas@energyhub.com with your name, address, and thermostat type (e.g. Honeywell, ecobee, Sensi, etc.) and we will help you to unenroll.
Get more benefits
A Wi-Fi thermostat can save up to $180 on your energy costs, year after year.
Get up to $75 rebates on a new smart thermostat.
Receive an instant $25 incentive for signing up for ConnectedSolutions plus another annual incentive every additional Winter you stay in the program.
Reduce the load on the gas grid during peak time.