Natural Gas Heating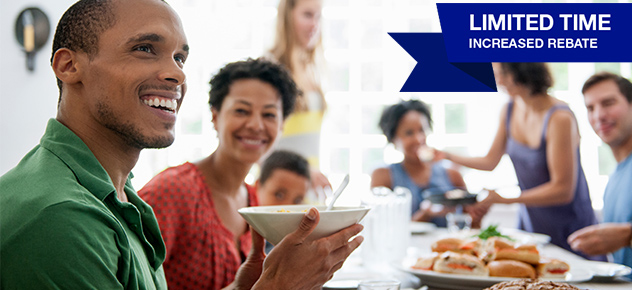 Limited-time Increased Rebates: Save more money on select heating equipment today—and save energy for years to come.
Get exclusive limited-time increased rebates on high-efficiency gas heating equipment through August 31*
Even after the heating season ends, Summer is a good time to think about how new, high-efficiency heating and water-heating equipment can help you save energy. When winter is over and you're using your equipment less, it's a great time to upgrade—especially if you are selling or remodeling your home. That's because new, high-efficiency equipment can increase the value and reduce natural gas use in the long term.
Don't miss out. Check on the age and health of your current heating and water-hearing equipment to see if it is the right time for you to upgrade your water heater, furnace or boiler to a high-efficiency model.
Use this chart to see if you should upgrade your water heater, furnace or boiler to a high-efficiency model.
| | |
| --- | --- |
| Type of Equipment | Average Effective Unit Life Span (Years) |
| Combination Boiler-Furnace | 20 |
| Furnace (Gas) | 22 |
| Steam Boiler (Steel Fire Tube) | 25 |
| Steam Boiler (Cast Iron or Steel Water Tube) | 30 |
| Hot Water Boiler | 35 |
---
* Discounted prices not available online. Visit a Home Depot store near you.
*Increased rebates are available on qualifying equipment to National Grid residential gas customers in New York state from July 1 to August 31, 2022. Rebae applications must be submitted by no later than 8/31/22.