Benefits of EVs
Electric vehicles (EVs) have come a long way since the first models hit the road. Today's EVs are sportier, more powerful and more cost-efficient. They can travel much farther on a single charge. Also, the fast-growing number of makes and models, including used EVs, give you more choices when shopping for one that works for your lifestyle. Of course, regardless of which EV you choose you can rest easy knowing it's better for the environment.
National Grid Electric Vehicle Basics
The benefits of buying an EV
Environmentally Friendly
Gas-powered vehicles are a major cause of climate change, accounting for a large percentage of greenhouse gas emissions in the U.S. EVs on the other hand are emissions-free-and that's great news for our planet and our health.
Low Cost of Ownership
While in some cases an EV may cost more money up front, they're far more economical in the long run. In fact, all-electric models are proven to require less maintenance than gas-powered vehicles.
Financial Incentives
Incentives for EVs and charging are available from a wide variety of entities. Funding sources are available at the state and federal levels, as well as through National Grid. See available Programs and Incentives for more details.
Safe
EVs are incredibly safe. All EV models meet the Federal Motor Vehicle Safety Standards and undergo the same rigorous safety testing as gas-powered vehicles.
Fun to Drive
With their ability to travel longer distances, smooth and quiet ride, advanced infotainment systems and drive assist features, today's higher-performance EVs are more fun to drive than ever!
Charge at Home
EVs have the ability to tap into the existing electricity supply at your home. That means most of the time, you can "fuel up" without visiting the gas station.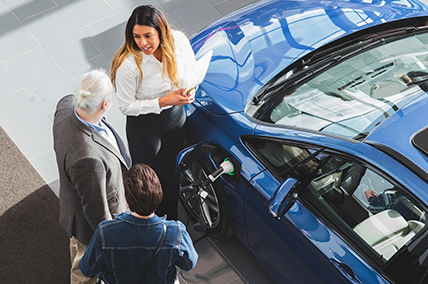 The answer to that is simple: you can purchase an EV from the same place you would buy a conventional vehicle. Do your research, find a brand that suits you, then visit your local dealerships for a test drive.
Find a Dealer
See your savings over time.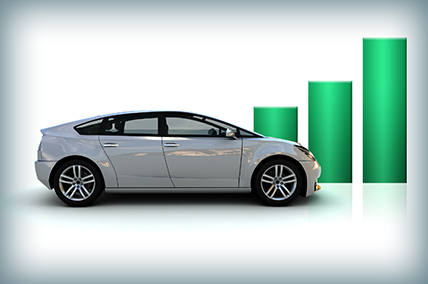 Select two vehicles to compare cost of ownership for 1 year, 5 years and as compared to a gas vehicle.
EV Comparison Tool
Frequently Asked Questions
There are a few variables to consider while comparing the cost to own and operate an EV versus a gas-powered vehicle: purchase price, miles driven, maintenance costs, energy usage (gasoline & electricity costs) and depreciation. According to the latest data, a gas-powered car is cheaper to own and operate than its electric counterpart. When you factor in the financial incentives, at both the state and federal level, available to those who purchase an electric vehicle—up to $7,500—they're the clear winner when it comes to affordability. If you don't want to do the math, the AFDC Vehicle Cost Calculator tool can calculate total cost of ownership and emissions and help you easily compare vehicles.
There are many reasons to consider making the switch to an EV. The three most popular reasons: full electric vehicles have zero tailpipe emissions, they can reduce your dependence on fossil fuels. The AFDC Vehicle Cost Calculator tool can calculate vehicle emissions and help you easily compare vehicles.
Plug-in hybrids can drive for 10-50 miles using only electricity before they start using gasoline. While most early electric vehicles were capable of traveling about 100 miles on a single charge, most current models can go about 230 miles or higher (see EV model availability). Many automakers are developing models that promise longer range and even faster charging.
Basically, there are two types of EV models available in the Northeast: Battery Electric Vehicles (BEVs), which require no gasoline, and Plug-in Hybrid Electric Vehicles (PHEVs), which are powered by both gasoline and electricity.
As anyone who's been behind the wheel will attest, electric vehicles are exciting to drive. One of the main reasons: the electric motor is able to provide a lot of torque in a short amount of time, which means fast, smooth acceleration.
EV batteries must work harder in the cold. When you start your car in the frigid cold winters of the Northeast, the battery will use more power than usual as it needs to warm itself up, meaning less energy gets put toward driving. That said, automakers have developed many workarounds, such as heat pump technologies and regenerative breaking to increase the range of EVs.
Most EV manufacturers provide an 8-10 year 100,000 mile warranty on EV batteries. This is mainly due to a federal rule that requires coverage for EV batteries for a minimum of eight years. However, as with any warranties, please check the fine print. Some auto manufacturers will cover a complete battery failure, whereas others will cover costs if the battery capacity drops below a set threshold. Just because they can no longer hold enough of a charge to power a car, they still have use. That's why they're recycled into a second—and sometimes third—life.