Upstate New York
Programs and Rebates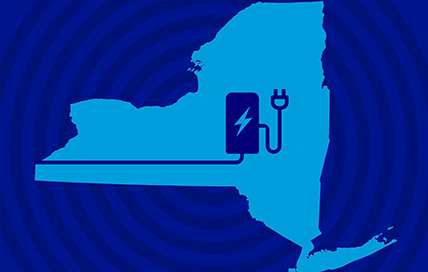 New York's goal is to have 850,000 EVs on its roads by 2025. Are you ready to join the count? Check out the programs and incentives below, which make it easier for you to go electric.
Interested in installing EV charging stations at your business or multi-unit dwelling?
National Grid can help.
Learn more.
National Grid Programs and Incentives
The new National Grid EV Charge Smart Plan will offer enrollment incentives and EV charging subscriptions to residential customers for at-home charging as well as assistance for charging installation. Participants can earn bill savings by allowing us to shift the charging of their vehicles to times that are more beneficial to the grid providing environmental benefits for all of our customers in upstate NY. Join our mailing list to learn more about this program when available.
Upstate NY customers can reduce their costs with the voluntary time-of-use rate (SC-1 VTOU) by charging their electric vehicles during the off-peak hours of 11 p.m. to 7 a.m. Most EVs can be easily programmed to charge during these hours using an onboard tinier, mobile app, outlet timer or EV charging station.
Learn more.
The Turnkey Charging Station Installation program provides residential customers with a comprehensive service including a qualified contractor network to schedule and install an EV charging station in your home and offers an enrollment incentive of up to $150, once enrolled in National Grid's EV Charge Smart Plan.
*Customers are only eligible to participate in one of the above available programs.

---
State Incentives
Charge NY
The Charge NY initiative offers EV buyers the Drive Clean Rebate of up to $2,000 for new car purchases or leases.
Learn more.
Additional Incentives
Drivers of most EVs can qualify for discounts on NYS Thruway tolls through the Thruway Authority's Green Pass Discount Plan and at bridges and tunnels in New York City through the Port Authority's Green Pass Program. Additionally, the Clean Pass Program allows these drivers to use high-occupancy vehicle (HOV) lanes when driving alone.
---
Federal Incentives
The Federal Plug-in Electric Vehicle Credit provides up to $7,500 in tax credit toward the purchase or lease of an EV. To learn more, visit US Department of Energy and/or Plugin America.