High-Efficiency Water Heating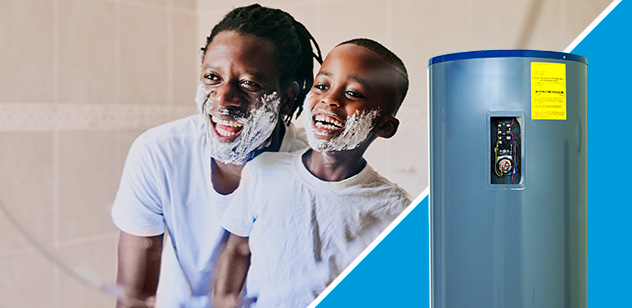 Let the savings, comfort and efficiency flow.
You could start saving money right away with rebates on a high-efficiency water heater.
Saving money and energy is always important. New, high-efficiency water-heating equipment can help you do both. That added efficiency is good for your budget—and the environment.
To see if now is a good time to upgrade your water heater, check the age and health of your current water-heating equipment. After all, we understand that nobody wants to experience a breakdown in the middle of winter.
Use this chart to see if it's time for you to switch to the savings, comfort and peace of mind of a high-efficiency model.
| Type of Water Heater | Average Effective Unit Life Span (Years) |
| --- | --- |
| Heat Pump Water Heater | 10 |
| Indirect Water Heater | 11 |
| Storage Water Heater (Gas) | 15 |
| On-Demand Water Heater | 20 |
Learn about qualifying equipment, working with contractors and finding rebates for high-efficiency water-heating equipment that saves energy without sacrificing performance.