Multifamily
Our energy solutions can help make your buildings smarter, and smarter buildings result in lower utility costs, happier tenants, and better occupancy rates.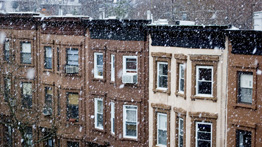 National Grid offers energy efficiency services for multifamily dwellings such as apartment buildings, condominiums, and housing complexes. If you are a building owner or property manager, you can take advantage of our programs to weatherize your facilities or make other energy-saving improvements. If you are a tenant, ask your landlord or property manager to participate in the program to help lower your energy bills.
Get Started Today
Our program offers technical assistance and incentives for multifamily buildings of five or more units in the New York City territories as well as Long Island and the Far Rockaway peninsula. To find out more apply online.
New One-Pipe Steam System Retrofitting Program
Our low-cost energy efficiency upgrades to existing one-pipe steam distribution systems in multifamily buildings boosts system capabilities and brings savings. Many one-pipe systems are inefficient due to misunderstanding of operation and inadequate air vent maintenance.
Our program can maximize such systems for multifamily apartment building customers. During a top-to-bottom review we'll not only identify buildings that can benefit from proper venting, we'll also outline potential savings. To get started download our One-Pipe Steam System program application or contact Natgrid1PS@willdan.com with "One Pipe Steam" in the subject line or call us at 1-800-246-5904 to schedule an appointment.