Carbon Monoxide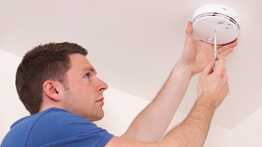 Often called "the Silent Killer," carbon monoxide (CO) is a highly poisonous gas that is colorless, odorless, tasteless, and virtually impossible to recognize without a detector installed. Although carbon monoxide is a normal by-product of fuel burning, malfunctioning appliances or improper ventilation can cause CO to reach dangerous levels in your home.
Protect yourself and your family from carbon monoxide poisoning by taking these precautions:
Install a carbon monoxide alarm. We recommend that the alarm be marked with the "UL" certification (UL 2034) and installed near bedrooms.
Contact your local municipality to get CO detector requirements for your area.
Have your chimney and fuel-burning appliances checked regularly (annually at a minimum) by a qualified professional.
Be sure all space heaters and woodstoves are in good condition and used in strict compliance with the manufacturer's instructions.
Always turn off your car when it's parked. A vehicle left running inside a garage is the most common cause of carbon monoxide accidents.
Suspect a CO Leak?
If you suspect a carbon monoxide leak in your home, go outside immediately and report it to 911.
Indicators of high levels of carbon monoxide in the home may include:
Extremely stuffy, stale air.
Water condensation dripping on the inside of windows.
Residents exhibiting the symptoms of carbon monoxide exposure: flu-like symptoms such as dizziness, headaches, sleepiness, nausea, fluttering of the heart, and loss of muscle control.
Learn more about poisoning and prevention in our Carbon Monoxide Safety brochure.