Pipes on Your Property
Help us keep our natural gas pipelines safe with proper precaution and maintenance.
If you plan to plant a tree, install a fence, put in a pool, or plan any other outdoor improvements you must call 811 at least two days prior to excavation activities. It's the law!
Why? Various utility lines are buried underground and there are serious consequences if you mistakenly hit, scrape, or otherwise damage them.
After you call, a representative will survey the area and clearly mark out any underground lines at no charge to you. Do not begin any work until you've called and always respect the mark outs placed on your site. And if you see someone working in the street or a yard without mark out, always ask if they made a call to 811 first. Help us keep your home, family, and community safe!
Inspect Your Pipes Regularly
It is your responsibility to maintain and let us know about any gas lines that begin at the outlet of the gas meter and extend either above or below ground on your property. Buried gas lines need special attention because they can corrode or leak if not properly maintained. We recommend you periodically hire a professional plumbing/heating contractor or leak survey and corrosion expert. If unsafe conditions are found, you should have the pipeline repaired immediately.
Examples of buried gas lines include:
Outside gas lighting
Gas heaters for pool or hot tub
Natural gas barbecues
Gas-fired generators
Detached buildings with gas appliances
Access Required for Mandated Work
National Grid representatives often need access to the inside of your premise to preform safety work required by the Public Service Commission of New York State. This work includes meter quality tests, meter changes due to retirement, regulator inspections, public building inspections, and may require your gas appliances to be tested for leaks and carbon monoxide. When the meter at your premise is selected in one of these programs, National Grid will contact you by postcard, letter or phone to schedule an appointment. Appointments take approximately 45 minutes and will be completed at no cost to you.
Leave Sewer Pipe Blockages to Professionals
Unclogging sewer pipes can create gas leaks, so please always have a professional inspection of sewage blockages before attempting to clear them.
Why? Natural gas utilities across the country have discovered locations where natural gas pipes or other utilities such as communications and electric wires were accidently installed through sewer pipes, something known as a "cross bore." Cross bores aren't a safety hazard on their own, but damage caused by unclogging sewer pipes could led to fires or explosions.
Respect Rights of Way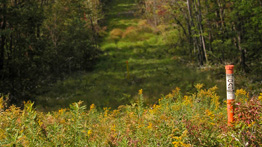 While most of our pipelines run under public roads, some do cross under private property. To protect both the pipelines and our communities, we establish strips of land along a pipeline's path called Rights of Way (ROWs) where permanent structures are prohibited. A ROW can measure from 25 to 150 feet wide and is usually indicated with a marker that displays the approximate location of the pipeline, the material transported, the operator's name, and an emergency telephone number.
ROWs prohibit permanent structures such as:
Houses
Trailers
Mobile homes
Poles, decks
Trees
Tool sheds
Garages
Swimming pools
Septic tanks