National Grid's Make-Ready Program Funds 18 Charging Ports at SUNY ESF
Oct 26, 2021 - 12:00 PM
Categories: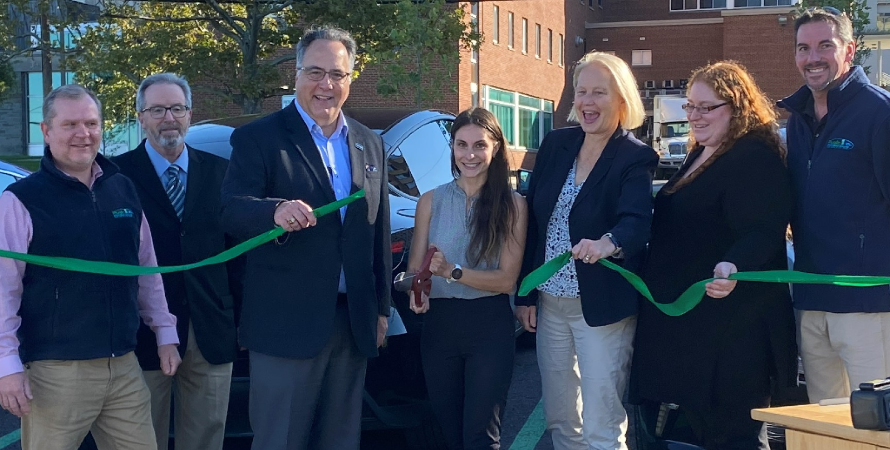 Pictured from left are: Ron Semp, Plug-In Stations Online; Peter Marschall, SUNY ESF; Alberto Bianchetti, National Grid; Sue Fassler, SUNY ESF; Joanie Mahoney, SUNY ESF President; Nicolette Havrish, Beardsley Design Associates; and Chris Marcotte, Plug-In Stations Online.


Students, faculty and staff of SUNY's College of Environmental Science and Forestry (ESF) in Syracuse now have 18 new reasons to consider an electric vehicle. The college recently installed 18 new vehicle chargers in two locations on its campus.
"ESF is happy to lead the way and make the infrastructure available for the driving public to use more environmentally friendly vehicles," said Joanie Mahoney, president of SUNY ESF. "We are all in this together and every little bit people can do will help us all to live in a healthier environment."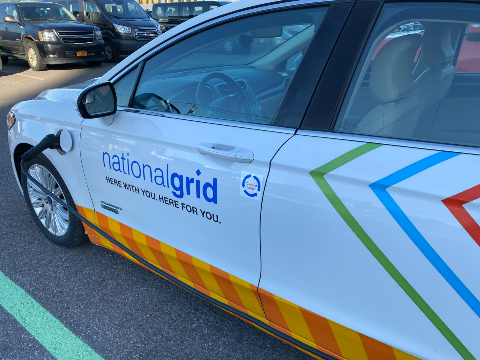 "Take a closer look at the cars on streets and highways in upstate New York and you'll see more and more electric vehicles and plug-in hybrid vehicles," said Alberto Bianchetti, regional director for National Grid. "This installation is another step toward making electric vehicle charging more readily available and accessible to the community."
National Grid provided $163,000 toward the 18 chargers, installed by
Plug-In Systems Online.
They are the first chargers on the SUNY ESF campus available to students and staff. The chargers also are open to members of the Syracuse University community.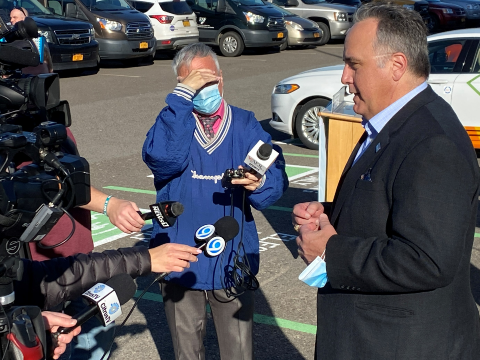 National Grid Regional Director Alberto Bianchetti speaks to the media following the ribbon cutting.
The installation is part of a broader effort to encourage electric vehicle ownership and provide drivers access to chargers. National Grid has committed $143 million toward its Electric Vehicle Charging Station Make-Ready Program to support the state's energy goals of adding 16,000 vehicle plugs in National Grid's upstate New York region by 2025. Additionally, clean energy and sustainability and environmental justice are key pillars of
National Grid's Project C initiative
, which inspires its commitment to the community.
"Our make-ready program is among the largest and best-funded infrastructure programs in the nation," Bianchetti said.
Electric Vehicle owners can take advantage of chargers installed through this program at
Beaver Lake Nature Center
, the William F. Walsh Regional Transportation Center, and hotels in Carrier Circle and Downtown Syracuse. Syracuse-area companies, including C&S Companies, Lockheed Martin, SaabSensis and SRC, also have taken advantage of the Make-Ready program to install chargers for employees and fleets.
Learn more about how you can become an environmental leader and install an EV charging station at little or no cost, by visiting National Grid's Electric Vehicle Charging Station Make-Ready Program at
www.ngrid.com/uny-evcharging
.
About National Grid
About National Grid: National Grid (NYSE: NGG) is an electricity, natural gas, and clean energy delivery company serving more than 20 million people through our networks in New York, Massachusetts, and Rhode Island. National Grid is transforming our electricity and natural gas networks with smarter, cleaner, and more resilient energy solutions to meet the goal of reducing greenhouse gas emissions.
For more information, please visit our website, follow us on Twitter, watch us on YouTube, friend us on Facebook, and find our photos on Instagram.
Media Contacts
Related News