Electric Transportation and Charging Programs
Don't follow – be an environmental leader. Partner with us to install new electric vehicle (EV) Level 2 or direct current fast charging ("DCFC") stations or take advantage of our DCFC station incentive program.
The Programs
We can help you save money by defraying the cost to install the charging stations, funding 100% of the electrical infrastructure for approved projects and rebates for some charging station equipment installations. See Figure 1.

Figure 1: Installation of Charging Stations
By providing charging stations and educating your employees, tenants, and customers you will be positioned at the top of the pack, as an environmental leader committed to environmental sustainability.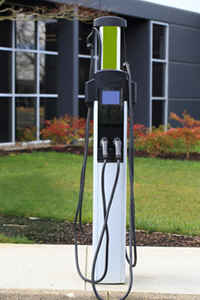 We help you with costs by funding, for approved projects, up to 100 percent of the electrical infrastructure and charging station equipment costs.
We help you select charging station equipment by providing a list of qualified Level 2 and DCFC charging station equipment for you to choose from
We help you distinguish your company as an environmental sustainability leader in your community, with customers, and with your employees and tenants.
We help you support Upstate New York's clean air goals.
For more information:
Contact us EVNationalGridUNY@nationalgrid.com
New, publicly accessible* DC fast chargers (DCFC) greater than 50 kW for electric vehicles are eligible for an annual incentive from National Grid. If a station is composed of more than one plug, each plug which can simultaneously dispense power with other plugs is eligible to earn an incentive. The incentive declines over time and is payable annually. Up to 300 plugs will be eligible to earn the incentive in National Grid's upstate New York Service territory.
Incentive Level
Eligible plugs earn an incentive for every year which they are eligible between 2019 and 2025. To become eligible, a station must complete their application for service, including the payment for any applicable infrastructure upgrades, known as the CIAC (Contribution in-aid of construction). After a full year of operation, each plug-in service is eligible for the full incentive associated with the program year. The actual incentive will be capped at the lower of the actual delivery bill of the station for that year and the applicable incentive level. Plugs rated between greater than 50 kW, but less than 75 kW are eligible for 60% of the incentive of those greater than >75 kW in any year.
Mixed Tier
The minimum criteria for a participating standardized plug is 62.5 kw. A plug capable of charging from 62.5 kW to 74 kW shall receive the 60% incentive. At co-located stations, any plug capable of charging two vehicles simultaneous at 75 kW or greater shall receive the full incentive. At least two standardized plugs between 62.5 kW and 74 kW must be present to establish eligibility for the incentives. The opportunity to seek incentives under the mixed tier option ceases three years from the date of this order (March 19, 2023).
Developer Cap
No single station developer or operator may seek incentives for installation of greater than 50 percent of the plugs per utility service area.
The incentive schedule is given below.
Year
Plugs > 75kW
Plugs
50kW - 74kW
2019
$7,500
$4,500
2020
$7,500
$4,500
2021
$7,500
$4,500
2022
$6,429
$3,857
2023
$5,357
$3,214
2024
$4,286
$2,572
2025
$3,214
$1,928
Incentive Availability Status
| | |
| --- | --- |
| Incentive funds paid | $0 |
| Incentive funds remaining | $9M |
| Total number of plugs | 300 |
| Number of plugs enrolled | 8 |
| # of plugs 50-74kW | 0 |
| # of plugs 74kW and higher | 8 |
| Number of plugs remaining | 292 |
Updated August 25, 2020
Incentive Rollover
If a station's delivery bill is less than the total incentive for which it is eligible, it may roll over unused incentive funding into future years with certain limitations. The rolled over incentive quantity may be added to the eligible incentive quantity through 2021. From 2021 to 2022 the roll over will be limited to $5,625. There will be no roll over allowed after 2022.
How to Apply?
To begin the application process, please complete the below form:
National Grid Commercial Account Application
Online Application for DCFC Incentive
Associated Documents
Public Service Commission Order
*For the purposes of this program, publicly accessible locations include those where there is no fee to park. Plugs in pay-to-park lots which offer a refund of the parking fee for EV drivers who charge will be eligible. Publicly accessible stations must include both a CCS plug and a CHAdeMO plug. Stations eligible for the incentive must be usable without requiring membership in a charging network. Networked stations that offer single per-use charging fees will satisfy this criterion. Further, while payment by smartphone is permitted, it cannot be the only method of payment at eligible stations.