Electric Heating & Cooling Heat Pumps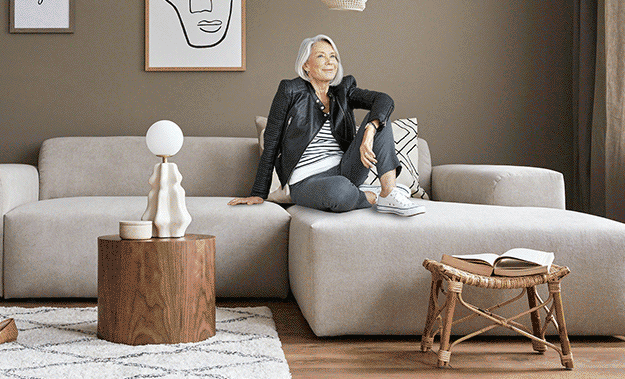 Discover the Great Indoors.
Experience the all-in-one comfort and energy savings of high-efficiency heat pump technology.
Whether you use gas, electric or delivered fuels, now you can stay cooler in the summer and warmer in the winter with the new generation of heat pump technology—designed to perform in cold climates and transfer heat effectively even in subzero temperatures.
Use the chart below to check on the age and health of your current heating equipment.
| Type of Heat Pump Technology | Average Effective Unit Life Span (Years) |
| --- | --- |
| Air Source Heat Pump | 15 |
| Ground Source Heat Pump | 25 |
| Combination Boiler-Furnace | 20 |
| Furnace (Gas) | 22 |
| Steam Boiler (Steel Fire Tube) | 25 |
| Steam Boiler (Cast Iron or Steel Water Tube) | 30 |
| Hot Water Boiler | 35 |
New heat pump heating and cooling technology keeps your home comfortable all year long.
Electric Heat Pump Systems
During the colder months, heat pumps take heat from the outside air and transfer it into your home. During the warmer months, they keep your home cool by pulling warm air from inside your home and transferring it outside.


Clean Heat Buying Guide
Use this guide to learn about which heat pump technology will be right for your home before finding a contractor.


Find a participating contractor to see which type of high-efficiency heat pump technology is right for your home—and to take advantage of exclusive rebates for National Grid customers. These rebates are included in your installation cost, so you won't have to wait for a check.
As a gas heating customer you might qualify for an increased incentive on heat pumps.
Starting on September 1, 2022, existing gas heating customers in priority electrification zip codes in New York can receive an additional 25% incentive on qualifying heat pump technology. Find out if your zip code qualifies before contacting a NYS Clean Heat Participating Contractor to start your project.
How do electric heat pumps compare to traditional HVAC equipment?
Warmer. Heat pumps spread the warmth more efficiently than conventional oil, propane or electric resistance heating systems.
Cooler. Heat pumps cool more efficiently when summer temperatures climb, saving you both money* and energy.
Comfier and cozier. Heat pumps provide quiet, even heating and cooling throughout your home or business.
Easier. Heat pumps last longer than conventional furnaces and AC units and require minimal maintenance.
Cleaner, healthier and safer. There is no combustion of fossil fuels, fuel storage or carbon monoxide emissions associated with heat pumps.
Learn more about what air or ground source heating and cooling technologies are best for you.
*Energy savings are relative to fuel conversion and customer usage. Savings will vary depending on replacement fuel source costs, efficiency of equipment replaced, weatherization work completed in your home in the last 5 years and general usage.