Massachusetts
Programs and Rebates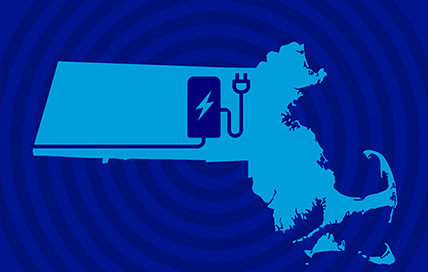 Massachusetts' goal is to have 200,000 EVs on its roads by 2025. Are you ready to join the count? Check out the programs and incentives below, which make it easier for you to go electric.
Interested in installing EV charging stations at your business or multi-unit dwelling?
National Grid can help.
Learn more.
National Grid Programs and Incentives
National Grid understands that the most convenient and affordable place to charge your electric vehicle is often at home. The Residential EV Charging Infrastructure Program supports residential electric customers by providing rebates for upgrading home-wiring in their garage or parking area (up to $700 for single family homes, with additional rebates for 2-4 units) and ongoing savings once enrolled in a managed charging program, for example approximately $100 annually through the off peak charging program. Customers living in an environmental justice community or enrolled in the low-income discount rate (R-2) are eligible for additional wiring and charger rebates.
Visit the program landing page for complete details.
Charge smart with the Massachusetts Off-Peak Charging Program and earn rebates by charging your EV during designated off-peak times and $50 for enrolling today*. Reduce your EV charging costs and increase the efficiency and reliability of the power grid.
The Charge Smart MA platform requires vehicle telematics or network-connected home chargers. To see if your vehicle or hardware is currently compatible, view the complete compatible model list.
Visit the program landing page for complete details. If your home charger or EV is not currently supported, please complete the waitlist form.
*Customers participating in the Residential EV Charging Infrastructure rebate program will receive rebates for charging during off-peak times but will not receive the $50 enrollment incentive.
---
State Incentives
The MOR-EV program provides rebates of up to $3,500 for the purchase or lease of battery electric vehicles and fuel-cell electric vehicles and up to $1,500 for plug-in hybrid electric vehicles.
Learn more.
---
Federal Incentives
The Federal Plug-in Electric Vehicle Credit provides up to $7,500 in tax credit toward the purchase or lease of an EV. To learn more, visit US Department of Energy and/or Plugin America.