Massachusetts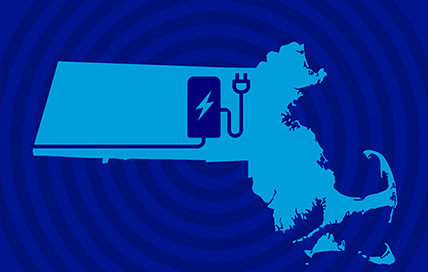 Massachusetts' goal is to have 300,000 EVs on its roads by 2025. Are you ready to join the count? Check out the programs and incentives below, which make it easier for you to go electric.
Interested in installing EV charging stations at your business or multi-unit dwelling?
National Grid can help.
Learn more.
National Grid Programs and Incentives
Charge smart with the Massachusetts Off-Peak Charging Program and earn rebates by charging your EV during designated off-peak times and $50 for enrolling today. Reduce your EV charging costs and increase efficiency and reliability of the power grid.
The Charge Smart MA platform requires vehicle telematics or network connected home charger. To see if your vehicle or hardware is currently compatible, view the complete compatible model list.
Visit the program landing page for complete details. If your home charger or EV is not currently supported, please complete the waitlist form.
Enroll your vehicle to make the grid more sustainable. Earn $50 for enrolling in the program and an additional $20 per year for staying enrolled.
Enroll now.
On hot summer days when the electricity grid in your area is stressed, reducing energy can help save energy costs and decrease pollution-and MassSave makes it easy!
After enrolling your qualified vehicle, National Grid will automatically send a signal to pause charging during peak events, and automatically resume charging afterward. These peak events only happen on hot summer afternoons and only last two to three hours. Need to charge? No problem. You can resume your charging any time.
*Customers are only eligible to participate in one of the above available programs.


---
State Incentives
The MOR-EV program provides rebates of up to $3,500 for the purchase or lease of battery electric vehicles and fuel-cell electric vehicles and up to $1,500 for plug-in hybrid electric vehicles.
Learn more.
---
Federal Incentives
The Federal Plug-in Electric Vehicle Credit provides up to $7,500 in tax credit toward the purchase or lease of an EV.
Learn more.