Reach your sustainability goals with high-efficiency heating & cooling.
When you upgrade to high-efficiency heat pumps, you're investing in a more comfortable space that meets your sustainability goals for years to come. Plus, you can take advantage of financial incentives—along with comprehensive service, guidance, and support every step of the way.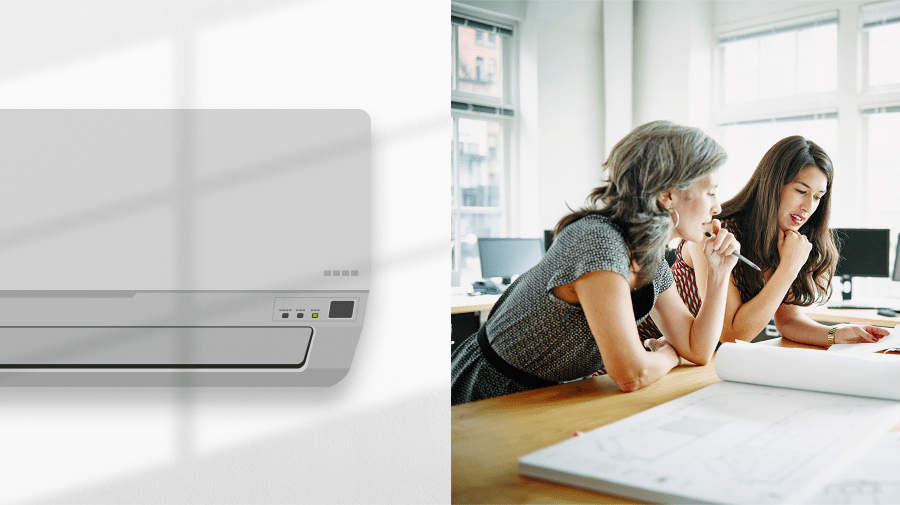 What are the benefits of heat pumps?
Aside from being environmentally friendly, heat pump technology offers many benefits when compared to traditional HVAC systems:
Energy Efficient
Heat Pumps are an energy-efficient alternative to traditional HVAC solutions like furnaces and air conditioners. Since they transfer rather than generate heat, they can be three to four times more efficient than furnaces and help you lower your overall energy usage.
All-in-one Solution
Heat pumps are an all-in-one solution for both heating and cooling. They work to keep your building warm during cooler months, and cool during warmer months. Buildings can use one system, rather than multiple, to maintain comfortable indoor climates year-round. As a result, heat pump solutions can occupy less physical space by requiring a smaller footprint.
Clean Solution
As more companies focus on reducing carbon emissions, it's important to look for cleaner, more-sustainable solutions. Since they don't rely on fossil fuels, high-efficiency heat pumps reduce your building's greenhouse gas emissions to help meet your sustainability goals.
Flexibility
Heat pump systems can be installed with or without ductwork. This means you may be able to install heat pumps while using existing ductwork—saving you time and resources on the installation. There are several different solutions available, so you can choose the heat pump technology that works best for your business.
Comfort
For everyday operations, heat pumps provide a comfortable environment by heating and cooling individual spaces or whole buildings. Zone control allows for greater control and more uniform temperature distribution.
Health
Many heat pumps can improve indoor air quality with built-in HEPA filtration systems that remove pollen, dust, and other allergens. And because heat pumps are emissions-free and require no fuel storage, they are a cleaner, simpler solution year-round.
Heat Pump Prescriptive Incentives
Sponsors of Mass Save, including National Grid, are making the purchase and installation of energy-efficient heat pumps affordable for Massachusetts businesses. Rebates are offered based on equipment capacity (tonnage) to commercial customers who install heat pumps to supplement or replace a pre-existing oil, propane, natural gas, or electric resistance heating system.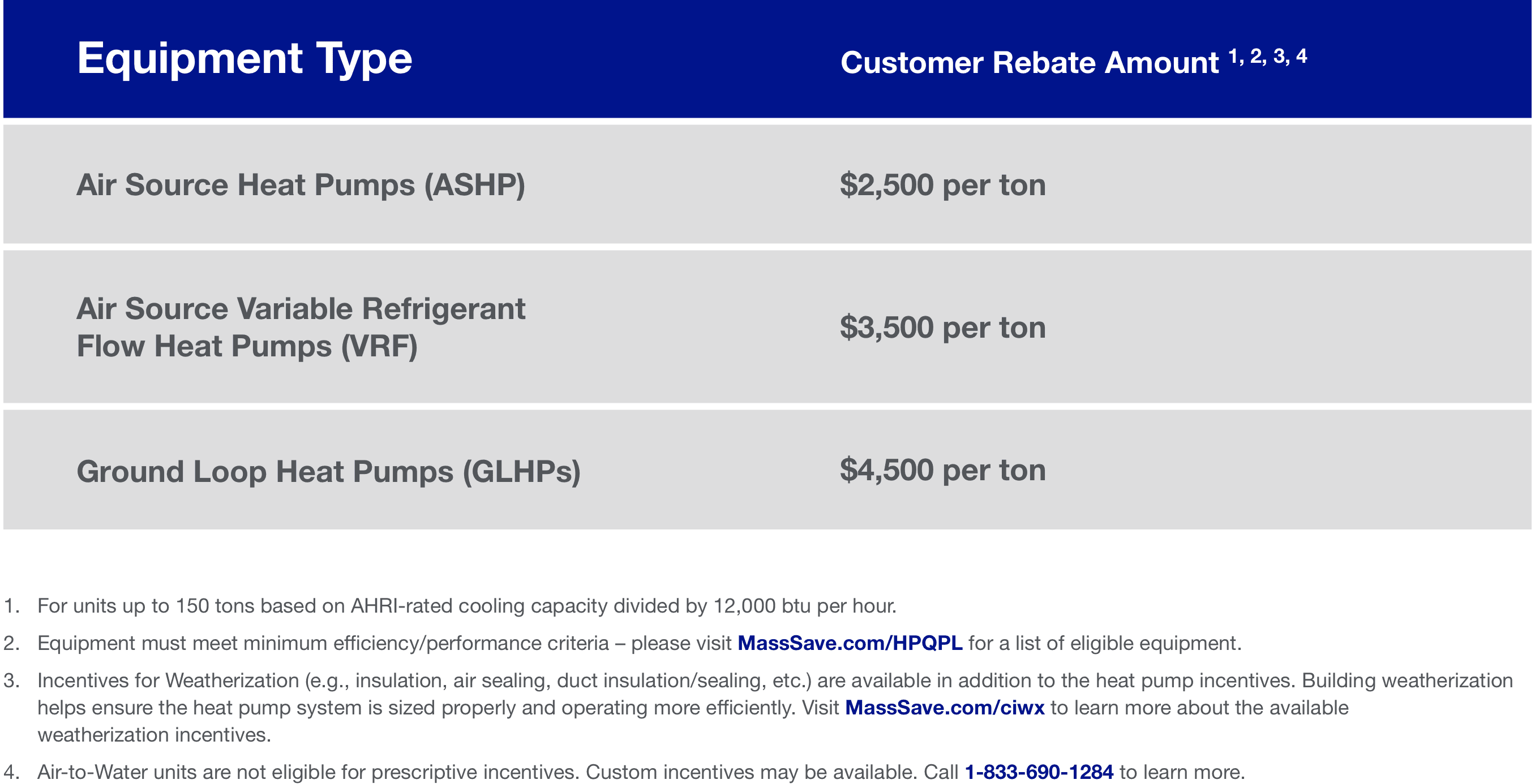 1
For units up to 150 tons based on AHRI-rated cooling capacity divided by 12,000 btu per hour.
2
Equipment must meet minimum efficiency/performance criteria – please visit MassSave.com/CIHPQPL for a list of eligible equipment.
3
Incentives for Weatherization (e.g., insulation, air sealing, duct insulation/sealing, etc.) are available in addition to the heat pump incentives. Building weatherization helps ensure the heat pump system is sized properly and operating more efficiently. Visit MassSave.com/ciwx to learn more about the available weatherization incentives.
4
Air-to-Water units are not eligible for prescriptive incentives. Custom incentives may be available.
Call 1-833-690-1284 to learn more.