Electric Heating & Cooling Heat Pumps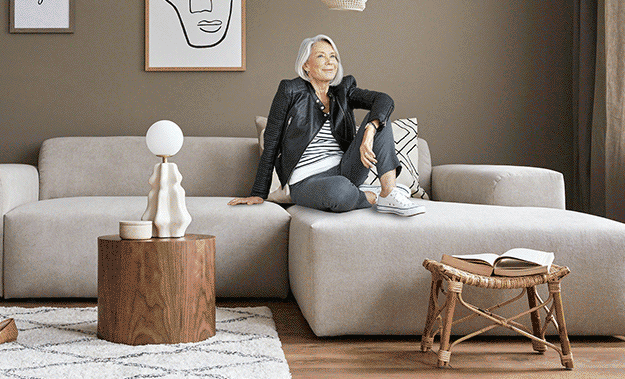 Discover the Great Indoors.
Experience the all-in-one comfort and energy savings of high-efficiency heat pump technology.
Stay cooler in the summer and warmer in the winter with the new generation of heat pump technology—designed to perform in cold climates. This technology even gives you the ability to control temperature by room. If your heating or cooling equipment is getting older, now might be the right time to upgrade to the all-in-one technology that heats, cools and fights climate change.
Use the chart below to check on the age and health of your current heating equipment.
| Type of Heat Pump Technology | Average Effective Unit Life Span (Years) |
| --- | --- |
| Air Source Heat Pump | 15 |
| Ground Source Heat Pump | 25 |
| Combination Boiler-Furnace | 20 |
| Furnace (Gas) | 22 |
| Steam Boiler (Steel Fire Tube) | 25 |
| Steam Boiler (Cast Iron or Steel Water Tube) | 30 |
| Hot Water Boiler | 35 |
New heat pump heating and cooling technology keeps your home comfortable all year long.
During the colder months, heat pumps take heat from the outside air and transfer it into your home, even in sub-zero temperatures. During the warmer months, they keep your home cool by pulling warm air from inside your home and transferring it outside.
Find a participating contractor to see which type of high-efficiency heat pump technology is right for your home. Then take advantage of exclusive rebates offered by National Grid, a sponsor of Mass Save.
Interested in 0% financing?
Apply for a Mass Save HEAT Loan prior to installing your equipment. National Grid and the Sponsors® of Mass Save are buying down interest rates to make energy efficiency more affordable for Massachusetts residents. With HEAT Loan, you could qualify for a loan of up to $25,000 toward qualified energy-efficient home improvements. Learn more about HEAT Loan
Based on your household income, find out if you are eligible for no-cost or discounted energy efficiency services. Visit our income-based offers here.


How do electric heat pumps compare to other, traditional HVAC equipment?
Warmer. Heat pumps spread the warmth more efficiently than conventional oil, propane, or electric-resistance heating systems.
Cooler. Heat pumps cool more efficiently when summer temperatures climb, saving you both money* and energy.
Comfier and cozier. Heat pumps provide quiet, even heating and cooling throughout your home or business.
Easier. Heat pumps last longer than conventional furnaces and AC units and require minimal maintenance.
Cleaner, healthier and safer. There is no combustion of fossil fuels, fuel storage, or carbon monoxide emissions associated with heat pumps.
Learn more about what air- or ground-source heating and cooling technologies are best for you.


Are you renovating or building a new home?
There's no better time to take advantage of high-efficiency heat pump technology. If you are thinking about heating and cooling solutions as part of your new home or major renovation project, please visit Residential New Construction Program and Renovations and Additions Program to learn about how to participate in these programs.