Electric Water Heating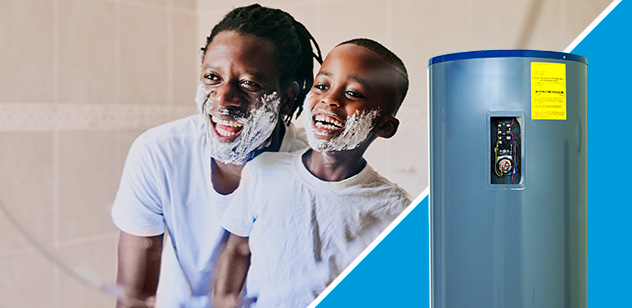 Let the savings, comfort and efficiency flow.
Lower your water heating bills and save on equipment costs.
Saving money and energy is always important. New, high-efficiency water-heating equipment can help you do both. That added efficiency is good for your budget—and the environment.
To see if now is a good time to upgrade your water heater, check the age and health of your current water-heating equipment. After all, we understand that nobody wants to experience a breakdown in the middle of winter.
Use this chart to see if it's time for you to switch to the savings, comfort and peace of mind of a high-efficiency model.
| Type of Water Heater | Average Effective Unit Life Span (Years) |
| --- | --- |
| Heat Pump Water Heater | 10 |
| Indirect Water Heater | 11 |
| Storage Water Heater | 13 |
| On-Demand Water Heater | 20 |
National Grid and the Mass Save sponsors partner with HVAC distributors to reduce the upfront costs of Heat Pump Water Heaters to lower your upfront spend and make them cost competitive with traditional water heating systems, while being up to three times more efficient.
Get instant savings when a licensed plumber installs a qualified heat pump water heater to replace an old electric, propane, natural gas, or oil water heater, Plus you may qualify for Federal and State Tax credits.
Interested in 0% financing?
Apply for a Mass Save HEAT Loan prior to installing your equipment. National Grid and the Sponsors® of Mass Save are buying down interest rates to make energy efficiency more affordable for Massachusetts residents. With HEAT Loan, you could qualify for a loan of up to $25,000 toward qualified energy-efficient home improvements. Learn more about HEAT Loan