Appliance Recycling Program
Recycle your old units and save energy, money and resources.
Believe it or not, your old appliances, such as refrigerators, freezers and dehumidifiers, can still do a lot of good—for you, your community and our planet. By replacing those outdated models with ENERGY STAR® certified appliances, you'll reduce your energy consumption. That's just the beginning. When you safely recycle your appliances, you also:
Conserve Resources

Keep reusable materials such as plastic, foam, metal and glass out of landfills

Protect the Planet

Avoid the release of ozone-depleting substances into the atmosphere

Save Money

More energy-efficient appliances can save you up to $150 a year in energy costs
The benefits of recycling your appliances through National Grid.
No-Cost Hauling and Pickup—Private appliance removal companies charge a fee to remove and recycle your appliance. Through National Grid, there's no cost.
Financial Reward*—You receive a check for each refrigerator, freezer or dehumidifier you recycle with us.
Contactless Option—This new offering ensures the health and safety of our customers and contractors.
Environmental Sustainability—National Grid is committed to supporting energy-efficiency programs for a greener future in states where we operate.
We make the process simple, safe and easy:
| | | | |
| --- | --- | --- | --- |
| Schedule a pickup online or call 1-877-889-4761. | Print and sign the Release Form and place it inside your appliance. | If you are using our Contactless Pickup option, move your appliance to your garage, driveway, porch or outbuilding, and remove door for safety. | Receive a check by mail for each working fridge, freezer and dehumidifier you recycle. |
How much impact will one recycled fridge have?
By recycling your fridge with us, you're not only helping the environment, you're providing: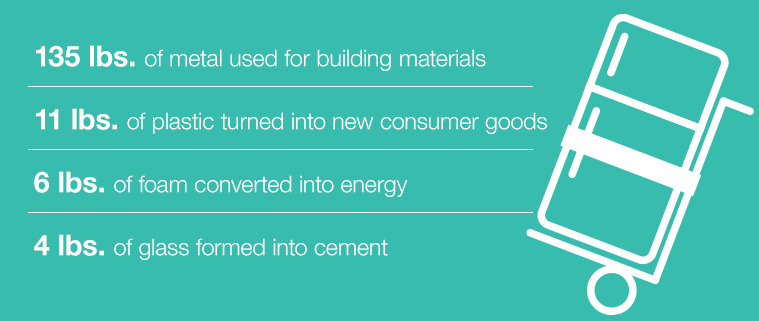 Schedule Your Pickup or call 1-877-889-4761
Eligibility Requirements
You must be a valid residential electric account holder of National Grid.


Refrigerators and freezers must be in working condition and have an inside measurement between 10 and 30 cubic feet, which is the standard size for most units. Per state laws, all doors must be removed from the refrigerator/freezer before placing outside for pickup to avoid paying fines. Working dehumidifiers of any size will be accepted at select drop-off locations.


Limit two units per household, per calendar year.
COVID-19 Safety Information
In compliance with COVID-19 safety standards provided by the state, we have resumed offering in-home pickups for your convenience. To keep our customers and employees safe, we have implemented several safety measures, including:
Social Distancing
Workers will practice social distancing whenever possible with customers and all other crew members. When unable to physically distance more than 6 feet, additional PPE will be required.
Training
All on-site workers are required to complete online training on new safety measures in order to be eligible for work.
Wellness Checks
Employees must follow any state or local requirements regarding health screening to clear them to begin work. Workers who are sick in any way are instructed to stay home.


Frequently Asked Questions
We do our best to make recycling safe and easy for you. Our full service includes moving the appliance from your home, hauling it to our facility, and ultimately, recycling it. We have all the equipment and staff to make sure we can move the unit safely. We will also wear the appropriate protection to guarantee safety for our employees and customers.
Yes. We offer Contactless Pickup, which means you can bring your unit outside or to a porch, patio, garage, etc. to maintain social distancing.
The fridge or freezer must be clear of any food and ice when we arrive. Per state laws, all doors must be removed prior to pickup.
The program only accepts and recycles refrigerators, freezers and dehumidifiers at this time.
The check will arrive four to six weeks after your appliance is picked up. If you do not receive it after this time period, call us at 1-877-889-4761.
Yes, but it will cost you. By doing it yourself, you'll need to provide transportation, arrange for disposal and possibly pay a fee. By participating in the program, we remove the appliance at no cost, pay you a reward, and guarantee that 100% of the appliance is recycled.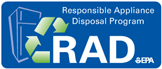 National Grid is a proud partner of Responsible Appliance Disposal (RAD).