Income Eligible Services
Give your home an energy makeover.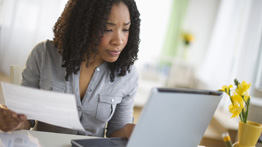 Our Income Eligible Energy Services Program is designed to help make sure you can enjoy an energy efficient home that's healthier, more comfortable, and more affordable for you and your family. The first step is to schedule a no-cost home energy assessment where an energy specialist will do an attic-to-basement evaluation to identify areas where your home can save energy. These services are available whether your home is heated with oil, natural gas, electricity, wood, coal, or propane.
You may also qualify for no-cost energy saving improvements, such as:
A no-cost upgrade or replacement of your heating system
No-cost energy saving services including attic and wall insulation, weather stripping, and air sealing
A no-cost replacement refrigerator, freezer, clothes washer, dehumidifier, and/or window A/C unit if your current appliances are inefficient
No-cost installation of energy efficient lighting and water saving devices
To get started contact Mass Save® at 866-537-7267 or your local Community Action Program (CAP) agency.
If you live in a building with five or more units, you should apply for services through the LEAN Multifamily Program website, or call 617-348-6425.
Income Requirement Information
Use the chart below to see if your household meets the income requirement for the Income Eligible Energy Services Program as well as other energy services, such as fuel assistance and discount fuel rates.
| Number of household members | 2019 annual income equal to or less than |
| --- | --- |
| 1 person | $35,510 |
| 2 people | $46,437 |
| 3 people | $57,363 |
| 4 people | $68,289 |
| 5 people | $79,215 |
| 6 people | $90,141 |
| 7 people | $92,190 |
| 8 people | $94,239 |