Small Business
We're here to help you build a better future for your business. Our energy saving solutions help improve everything from your business's ambiance to customer reviews all while lowering monthly overhead expenses.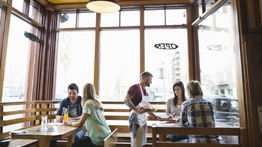 From Gas Stations to Banks, we help all types of small businesses become more energy-efficient. Our Small Business Program can help you cut energy costs and put those savings back into your business. The program includes:
Discounts and Incentives
We can help you reduce your energy costs and improve your ability to serve your customers with a variety of incentives and programs. This may include National Grid paying up to 70 percent of your project costs which may include lighting upgrades, lighting occupancy sensors, walk-in cooler efficiency measures and site-specific custom lighting projects. We also offer gas measures for our natural gas customers.
Flexible Payment Plans
Eligible customers can have their share of the costs placed on their monthly electric bill for up to 24 months. Or you can pay in one lump sum (and we'll discount your amount due by 15 percent).
To get started, schedule a no-cost energy assessment that will help us determine what energy-saving solutions are best for your business. Schedule your assessment online or call 1-800-332-3333.