US Leadership
John Pettigrew, Chief Executive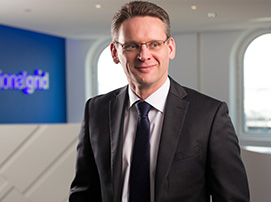 John has been with National Grid for nearly 25 years and became Chief Executive on April 1st, 2016. During his time at the company he has held several senior management roles, joining the Board in 2014 as Executive Director UK responsible for the UK's Electricity Transmission, Gas Transmission and Gas Distribution businesses.
John joined National Grid in 1991 as a graduate and became Director of Engineering in 2003; Chief Operating Officer and Executive Vice President for the US Electricity Distribution & Generation business in 2007; Chief Operating Officer for UK Gas Distribution in 2010; and UK Chief Operating Officer from 2012 to 2014.
John, who is 47, holds a BSC in Economics and an MSc in International Economics and Banking. He also completed the Advanced Management Program at Harvard Business School in 2010.
Dean Seavers, President US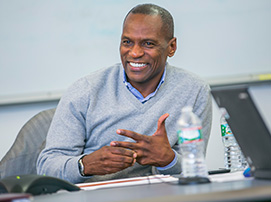 Dean Seavers joined National Grid in December 2014 as President of National Grid in the US.
Dean's long career has included leadership roles at GE, United Technologies, and Tyco. He led GE Security, a $2 billion product and technology group, and he also led a $4 billion global services portfolio for United Technologies.
Dean has a strong background in financial strategy, performance improvement, and operational leadership. At National Grid, his focus is on continuing the performance progress that underpins the company's US business while driving its Connect21 agenda of building the advanced natural gas and electricity networks that are the foundation of our 21st century digital economy.
A native of Sandusky, Ohio, Dean graduated summa cum laude with a bachelor's degree in business from Kent State University and earned an MBA from Stanford University's Graduate School of Business.