Cooling
Improve your business climate.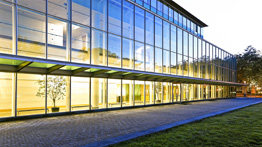 Saving energy isn't only for the winter months. During the summer, outdated air conditioning and poor sealing and insulation can waste energy, resulting in hefty electricity bills. Keeping your business climate-controlled in all seasons is important for your employees' comfort, and essential for maintaining sensitive technology such as computers and servers.
Is your building empty on nights and weekends? An energy management system (EMS) can be set to automatically control temperature during off hours. We also can help customers employ more efficient chiller technology. And with rebates and incentives for qualifying customers, National Grid can help stop your cooling systems from draining energy—and your budget. Ready to get started? Get more information on energy-saving services, incentives, and rebates.