Thermostat Program
Make your smart thermostat work smarter with ConnectedSolutions
Whether you are a homeowner or run a small business, ConnectedSolutions works with connected devices to reduce electric use during periods of high energy demand.
Earn a $50 instant incentive, and a $20 annual incentive for every thermostat connected to a central air conditioner or central heat pump.
And if you don't have a smart thermostat, you may get one here.
How it Works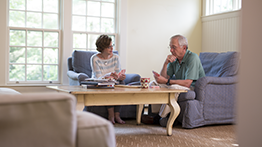 On hot summer days, when the grid is stressed, reducing energy can save energy costs and decrease pollution—and MassSave makes it easy!
After enrolling your qualified thermostat, National Grid will automatically send a signal to your thermostat to precool your home 3°F before the peak event and increase your thermostat setting 4°F during the peak event.
Peak events may occur during:
June-September
Non-holidays
Between 3-8pm
There are typically 15 peak events every summer – each event lasts only three hours.
You can opt out of a peak event at any time by changing your thermostat setting.
If this is not a good fit for you, we may unenroll you the following year.
Supported thermostats include:
Building36
ecobee
Emerson
Honeywell Home (including Lyric)
Lux
Nest
vivint.SmartHome
FAQs