Home Energy Assessments
In light of the COVID-19 outbreak, recommendations from the Centers for Disease Control and the State of Massachusetts to limit in-person contact, National Grid has decided to temporarily suspend Mass Save programs and services that involve program staff or partner trade allies entering a home or business. This includes Home Energy Assessments, wireless thermostat installs, and weatherization installations.
Save energy and create a cozy home with one call.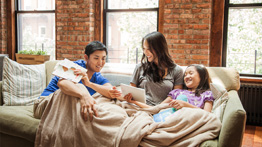 A no-cost home assessment gives you a plan to save on energy costs while improving energy use and comfort. An Energy Specialist will come to your home, complete an attic-to-basement evaluation, and provide a custom home energy report outlining recommended energy efficiency improvements.
As part of your assessment, you'll receive energy-saving products installed at no cost, such as*:
7-day programmable thermostat or a discounted Wi-Fi enabled thermostat (installed at a second appointment)

If you are a National Grid gas heating customer and your electric service is provided by a municipality, you are eligible to receive the LED light bulbs described above as well as thermostats, aerators and showerheads installed on natural gas heating and water heating systems.

ENERGY STAR certified LED light bulbs to replace incandescent light bulbs

Faucet aerators

Low-flow showerheads

Advanced power strips
Based on your assessment, you may be eligible for:
An instant incentive for 75% off approved insulation (or based on your household income, you could receive an enhanced offer for no cost insulation).
No-cost air sealing of leaks in drafty areas of your home
Rebates of up to $2,750 for upgrading to qualifying energy-efficient heating, cooling, and water heating equipment
The opportunity to apply for 0% financing for eligible upgrades through the HEAT Loan. See more details on participating lenders here.
Customer Satisfaction:
Over 99%* of National Grid customers who had a Home Energy Assessment and insulation upgrades would recommend this program to a friend or family member!
*Based on third party in-person interviews of of over 1,400 customers that participated in the MassSave program, sponsored by National Grid, between 1/1/2018 - 10/31/2018.
How to Participate:
Ready to get started? Take a quick no-cost Online Home Energy Assessment. This helps us make recommendations specific to you and your home. You will be able to schedule an in-home energy assessment if your home has opportunities for insulation and air sealing.
Or, if you're ready to schedule your no-cost Home Energy Assessment today, please call 1-866-527-SAVE (7283) if you own or rent a home with 1 to 4 units. You will be assigned an Energy Specialist from National Grid' lead vendor who will perform your Home Energy Assessment and coordinate recommended insulation and/or air sealing services with an Independent Installation Contractor (IIC). The Energy Specialist will assign a contractor or you can choose one from our list of participating IICs. National Grid's lead vendor is CLEAResult, except on Cape Cod where it is RISE Engineering.
If you prefer to select your own contractor rather than use National Grid's lead vendor, please choose a contractor from our list of participating Home Performance Contractors (HPCs). HPCs provide end-to-end service from Home Energy Assessments through air sealing and insulation installation and offer the same services provided by our lead vendor.
Quality Assurance Inspections:
After work is completed, the program may conduct quality assurance inspections for Home Energy Assessments, weatherization work (air sealing and insulation), HEAT Loans, and rebated heating systems.
Abode Energy Management
Center for EcoTechnology (CET)
CLEAResult
CMC Energy Services, Inc.
RISE Engineering
Other Savings Opportunities: