Charging Station Program
National Grid is dedicated to reducing greenhouse gas emissions (GHG) and helping the states where we operate meet their clean air goals.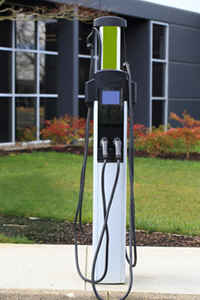 Don't follow—be an environmental leader. Partner with us to install new electric vehicle Level 2 or Direct Current Fast Charging ("DCFC") stations. Visit the Charging Basics page for more information on Level 2 and DCFC chargers.
We help you select charging station equipment by providing a list of qualified Level 2 and DCFC charging station equipment.
The Charging Station Program has helped over 1,000 customers across Massachusetts and New York install charging stations. Our work has continued to expand the chargers available in our states. Find a charging station near you.
Programs vary by state so please visit your State's page for complete details.