Cooling Your Home
Energy-Saving Ideas to Help You Chill.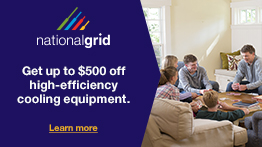 Make summer better by keeping your home cool, comfortable, and affordable. Employing the right size and type of air conditioning system can improve efficiency and keep the humidity down. We offer rebates of up to $500 on today's most energy-efficient central air conditioning systems. We'll help you keep the temperature—and your costs—from rising.
Ready to get started? For information on services and rebates, search our database or call 1-800-232-0672.