Balanced Billing
Take the "peaks and valleys" out of your energy bills.
Enroll in balanced billing to spread your projected annual energy costs into 12 balanced monthly payments. You still pay the same amount annually, but your consumption rate is divided by 12 to determine your monthly amount.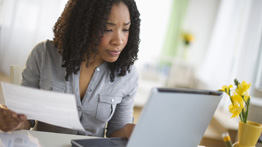 To be eligible for balanced billing, your account must be current and you cannot have any outstanding charges. Note that it takes two business days for any payment to clear, so you cannot enroll immediately after making a payment.
We look at your usage and the cost of the energy being used every three months to make sure it is as accurate as possible and may make adjustments to reflect that in your bill. You will be notified on your bill a month ahead of time if your plan needs to be adjusted. That way, there are no surprises at the end of each month or the year.
Although we do check your usage and make adjustments throughout the year, it could happen that we have overcharged or undercharged you by the end of the year. We treat the 12th month as a "settlement month" in such cases. If you paid for more than you actually used over the plan year, we will reduce that month's bill to reflect your credit. If you didn't pay enough to cover usage for the year, you can choose to either pay the amount over the next 12 months or pay one lump sum in the 12th month.
If you've just paid a bill, it can take up to three days for your payment to clear and your account to become eligible for balanced billing. Please check back in three days. We apologize for any inconvenience.