Solar Energy FAQs
Answers to your questions about solar power and your home, considerations
before installing solar, and National Grid's involvement with solar.
Solar Power and Your Home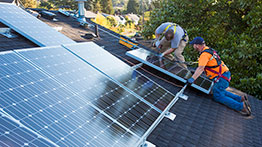 Photovoltaic (PV) systems consist of silicon cells that collect energy from the sun and convert it into direct current (DC) electricity. This electricity is then fed through an inverter to become alternating current (AC), the same form of electricity that is used in homes and businesses. The electricity generated by the PV system then serves some portion of the home or business' electricity needs. If there is more energy produced by the PV system than is consumed onsite, this electricity is exported to the grid where it can be used by other homes and businesses.
Renewable energy is both plentiful and clean. Development of renewable energy can provide long-term clean energy supply without requiring any fuel inputs. This significantly reduces the harmful impact of fossil fuel emissions (such as carbon dioxide, sulfur dioxide, and other greenhouse gases), helping ensure a clean and safe environment for future generations. A reduction in these emissions helps to provide a clean lower and upper atmosphere and prevents damaging health and long-term climate effects.
Among renewable energy resources, solar has certain advantages that make it well-suited for installation on customers' homes and properties. Solar panels are durable and long lasting. They also require minimal annual maintenance. The panels are silent and will not disturb neighbors. Solar panels can also be installed almost anywhere there is regular sunlight, with little impact to surrounding areas compared to other renewable generation. This makes solar a great solution for many different types of locations.
The cost for solar panels is at an all-time low in America, and continues to drop. PV panels are well-suited for a variety of locations, and can be conveniently installed on roof tops or on open, unused property. Typically, there are no moving parts, which leads to very little maintenance. By adding solar to your home or property, you are obtaining a long-term clean source of local energy, which may also decrease your electricity bill.
PV systems today can be easily installed on many types of homes or properties. Several factors determine if a home is well-suited for solar, including the lifespan of your current roof, whether there is any shading of the area where you would want to place your panels, the orientation of your roof or property (south-facing is ideal, but not required), and the amount of electricity your home or business consumes.
Installed and maintained properly, most new solar electric systems can run for more than 20 years.
Considerations Before Installing Solar
There are many options when it comes to module types, inverter types, system size, and other system specifics. For a complete analysis and recommendation you should work with a professional installer.
New online tools, such as EnergySage's solar calculator, can provide an immediate estimate of your solar potential using remote imaging data.
Leasing or buying solar panels for your home is dependent on your personal lifestyle and finances. Before signing a contract, make sure you understand the differences, and ask your installer to help you fully evaluate the options to determine the best choice for your home.
You may also want to research available financing options from local lenders, including state-sponsored loan programs. In Massachusetts, the Mass Solar Loan Program provides a low-interest, fixed-rate loan for qualifying customers. In New York, NYSERDA offers guidance on several financing options for homeowners.
Luckily, solar systems are fairly low-maintenance systems. Periodic visual inspections of the panels should be conducted, typically when a homeowner would inspect their gutters or shingling. The amount of maintenance necessary is largely dependent on site-specific factors, such as climate, roof tilt, and debris-causing factors. Frequently, systems installed at steep angles can somewhat self-clean due to rainfall. Your solar installer should be able to provide you with a cleaning and maintenance schedule for your system.
The price of a home system varies greatly depending on location, system size, and the incentives available to you. These prices have fallen rapidly as solar technology improves and installations become more commonplace. When shopping for solar, you may want to solicit installation quotes from multiple solar installers to ensure you're getting the most competitive offer and the best long-term return on your solar investment.
Many government-sponsored incentives are being offered now for home solar systems. Qualified solar installers will explain what's available to you, based on federal and state programs in effect at the time of your purchase. These may significantly improve the affordability of a solar system purchase or lease.
If you wish to do your own research, the Database of State Incentives for Renewables & Efficiency (DSIRE), developed by North Carolina State University with funding from the Department of Energy, is an all-encompassing source of information about the rebates and incentives that may be available to you.
For customers who pay cash to invest upfront in a solar PV system, the payback period for that investment depends on system size, electric consumption, and incentives offered in your area. For most customers, the payback period will be less than 10 years, and could be as few as 5 or 6 years. Remember, a solar PV system you own should continue to generate electricity to offset your electric bill for 20 years or more.
Solar panels are fastened to the ground or rooftop, and are designed to withstand severe winds. As long as the sun reaches the surface of the silicon cells, power is generated for a PV system.
Solar PV systems will generate less power on a cloudy day, but will still work. The installer will usually place the PV system facing toward the south to collect the most sun and choose a location for the system that minimizes shade and maximizes direct sunshine throughout the day.
Yes, National Grid recommends customers maximize their home's energy efficiency before installing solar. Whether the energy you use comes from the grid or from a new solar PV system; saving energy costs less than paying for energy. If you're an RI customer, you may be eligible for a bonus solar incentive.
Many exciting things are happening in the world of solar technology. As advancements in solar technology increase, efficiency and prices of panels are dropping. Interesting applications of solar technology recently emerging are solar coatings for building to produce electricity on the sides of skyscrapers, floating solar for bodies of water, and solar roadways.
National Grid's Involvement in Solar
National Grid has interconnected more than 35,000 customers with solar energy to our electric grid, ensuring that customer-owned systems are safely and reliably connected to our electric delivery system. In Massachusetts, National Grid is ranked one of the Top 10 utilities in the country for the amount of solar energy we've interconnected over the last several years by the Smart Electric Power Association.
As a company, we are also leading efforts to demonstrate how large-scale solar energy technology can bring the greatest benefit to the overall operation of our electric system. We are currently in the process of completing the development of the third phase of Company-owned solar facilities in Massachusetts to increase solar production and perform studies on the effects of distributed generation in specific areas of our network.
Phase I consists of six solar farms that can produce nearly 5 MW of power. These facilities are located all over Massachusetts, in locations such as Dorchester, Sutton, and Haverhill, to name a few. These were some of the earliest large-scale solar facilities constructed in Massachusetts. Phase II consists of eighteen solar farms that can produce nearly 16 MW of power. These facilities are located in more rural areas across the state in places from Shirley and Ayer to areas surrounding Worcester all the way to places in southern Massachusetts like Dighton, Fall River and Attleboro.
Phase II is currently underway, with more than 16MW of additional solar generation sites being constructed to further test the effects of distributed generation in different areas as well as test out new inverter technologies designed to make the grid more efficient. Some of these projects are already complete and generating. All sites are expected to be interconnected by early 2017.
Phase III is currently underway and near completion, with more than 14 MW of additional solar generation across seven solar farms. These facilities are being constructed to further test the effects of distributed generation in different areas as well as test out new inverter technologies, tracking arrays, and energy storage systems, designed to make the grid more efficient. Some of these projects are already complete and generating. All sites are expected to be interconnected by 2021.
The equipment is expected to work for at least 25 years.
Currently, the Green Communities Act allows utilities to install up to 50 MW of solar generation. With the current production from Phase I and expected production from Phase II, National Grid's total solar generation is at approximately 21 MW.
Discussions for future solar projects are currently taking place. These projects will incorporate additional new technologies in the hope to create a greener and more efficient electric system.